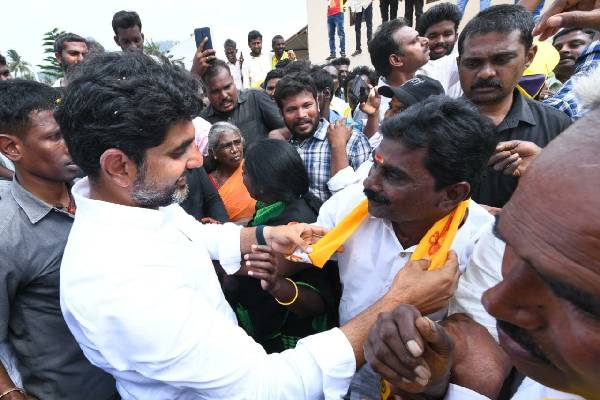 Women in the State got economic independence only with the initiative taken by the TDP during its regime, said its general secretary, Nara Lokesh, on Friday.
During his ongoing pada yatra 'Yuva Galam', Lokesh on Friday interacted with women at Seshapuram in Puthalapattu Assembly segment. Despite deficit in the budget in 2014, the then TDP government allocated Rs 20 cr for Pasupu Kumkuma scheme keeping in view the welfare of women, he said.
But, Chief Minister, Jagan Mohan Reddy, who promised pension for women belonging to the SCs, STs and Minorities communities who completed 45 years of age deceived them by not keeping his promise, Lokesh pointed out.
"The Centre on the floor of Parliament admitted that 52,587 women in Andhra Pradesh were victims of various kinds of atrocities and 900 women died due to different kinds of harassment," Lokesh pointed out. At least one accused in these cases is sentenced to life imprisonment under the provisions of the Disa Act or subjected to any serious punishment, he asked.
Jagan who promised total prohibition in the State is now encouraging illicit liquor sale, which is resulting in loss of several lives, he remarked and said that the illicit liquor is being manufactured in the distilleries owned by benamis of Jagan. The difference in the diesel prices between Andhra Pradesh and Karnataka is Rs 12, he added.
The future of the citizens of AP, particularly the younger generation will be bright only if Chandrababu Naidu becomes the chief minister again, he said. The State government starts shivering on hearing the very name of 'Yuva Galam', Lokesh said and felt that the entire police system almost surrendered to the ruling party.
The TDP leaders of Rompicherla met Lokesh and complained to him that the local police officials are threatening them with dire consequences if they move with the TDP leaders. They said that the atrocities of local YSRCP leaders in Punganur reached their peak and the police are acting in a totally biased manner.
Stating that the local YSRCP leaders attacked them with beer bottles on January 7 resulting in serious injuries to many TDP activists, the party leaders said that even the banners are being damaged every time. Illegal cases are being foisted against the TDP activists, they told Lokesh.
Responding to them, Lokesh said that he will stand by them, and they can always take his support for granted. He made it clear that getting scared is not in the bio data of the TDP and said that in the coming polls the TDP flag will be hoisted in Punganur. Once the TDP is back in power, all these illegal cases will be lifted, Lokesh said.