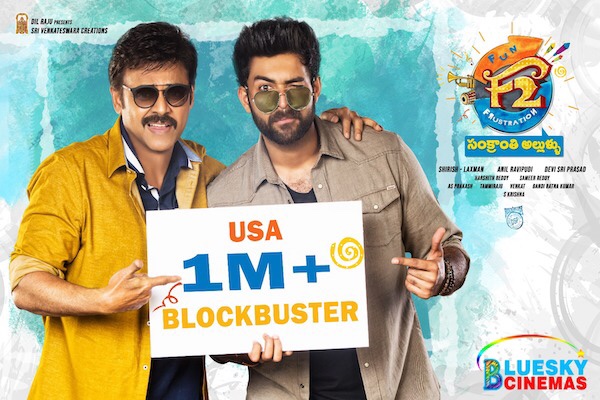 F2 brining lot of laughs to many movie lovers and family members in USA. Audience thoroughly enjoying the movie all over USA. It already crossed one million dollars and still running strong.
Due to high demand 30+ new locations have been added starting in which about 20 locations from today Tuesday 1/15 and rest from this Thursday/Friday.
Locations opening today, 01/15 Tuesday with Premiere shows at 6 an 9 pm.
1) Cinemark Memorial City, Houston, TX
2) Cinemark Christiana, DE
3) Cinemark Connecticut Post, CT
4) Cinemark Fairfax Corner, VA
5) Cinemark Somerdale, NJ
6) Cinemark Robinson Township, Pittsburgh, PA
7) Cinemark Milford, OH
8) Cinemark Dayton South, OH
9) Cinemark Erie, PA
10) Cinemark Huntsville, AL
11) Cinemark Baton Rouge, LA
12) Century Pacific Comm, CA
13) Cinemark Tulsa, OK
14) Cinemark Raleigh Grande, NC
15) Aurora Cineplex, Atlanta, GA (already opened)
16) Red Cinemas, SC (already opened)
17) New Vision, Fitchburg, WI
18) Show Place, Pekins, IL
19) Marcus Hollywood, Appleton, WI
20) Marcus West Acres, ND
Following locations will be opened from 1/16 Wednesday
21) Marcus Village Point, Omaha, NE
22) Marcus Cedar Rapids, IA
23) Harkins Valley, Tempe, AZ
Following locations will be opened from 1/17 Thursday
25) Show Case, Lowell, MA
26) Regal Solomon Pond, MA
27) Regal Burlington, NJ
28) Regal Farmingdale, NY
29) Regal Mira Mesa, San Diego, CA
30) Regal Simpsonville, SC
31) Cinemagic, Rochester, MN
32) Cinema World, West Melbourne, FL
As today is Tuesday, Enjoy AT&T Buy 1 ticket and Get 1 ticket free for your family member, friend or colleague. Download AT&T Thanks app on your mobile find the theater near to you and buy the ticket to use this offer. This works only for online purchase and valid one offer for one AT&T mobile number. This works for all Cinemark and Regal locations.
Also, T-Mobile is giving $5 off for each ticket per each T-Mobile phone number.
Watch F2 on big screens with your family and stay away from Piracy.
Wish you all movie lovers once again Happy Sankranti.
Only Fun and Keep Frustrations away by watching F2. Anthe Ga…Anthe Ga…Anthe Ga…
Click Here!! for the Schedules.
Press release by: Indian Clicks, LLC
——————————————————