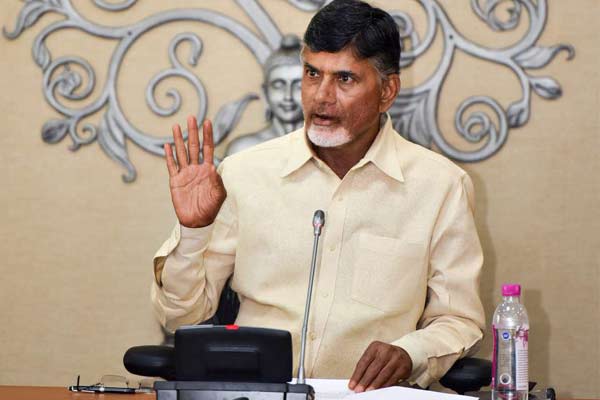 Andhra Pradesh government on Wednesday issued clarification on the appointment of Sitapati Abheeshta as Officer On Special Duty (OSD) in the office of chief minister Chandrababu Naidu (CMO). Raising the secrecy surrounding the appointment of  Abheeshta, APCC president N Raghuvira Reddy asked the government to explain as to how a non-qualified person  had been appointed in CMO with crucial responsibilities. Raghuvira also alleged that Abheeshta had been appointed just because he was friend of Nara Lokesh, son of chief minister Naidu, and  Lokesh was  gaining access to  the government  information  through Abheestha.
In the backdrop General Administration Department has issued a clarification this evening with referring to the name of Raghuvira Reddy. The following is the full text of the rejoinder:
***      ***
A news item is published on 28-10-2015, to the effect that Sri S.Abheeshta, who has been working in the Chief Minister's office, has not been officially appointed. The said news item is false, totally baseless and concealing the facts.
It is informed that the proposal for appointment of Sri Abheeshta as OSD to Chief Minister was dealt with in file C.NO.4/OP.II/2014. Based on the request received from the Chief Minister's office orders were issued in O.O Rt.No.25 GA (OP.II) Department dated 16-6-2014, appointing him as Officer on Special Duty to Hon'ble Chief Minister coterminous with the tenure of Chief Minister. It was indicated therein that the terms & conditions of appointment will be issued separately. The terms & conditions of appointment were issued in OO Rt.No.370 GA (OP.II0 Dept., dated 21-8-2014 with the concurrence of Finance Department vide their UO No.5335/79/A3/HR.I/2014 Dated 5-8-2014 and after obtaining the orders of Chief Minister through Minister for Finance.
The above clearly shows that Sri Abheeshta is working as OSD to Chief Minister on the strength of the above orders issued. Therefore there is no truth in the allegations made that he is working as OSD to CM without any orders from GAD.
It is further informed that temporary appointments are made in Government as and when Government wishes to appoint experts in certain posts. There are precedent cases where Government have appointed outsiders. The outside experts will be appointed with a specific rank. Some will be appointed with cabinet status and others with fixed remuneration. Therefore the Government is within its powers to appoint Sri Abheeshta as OSD to Chief Minister.