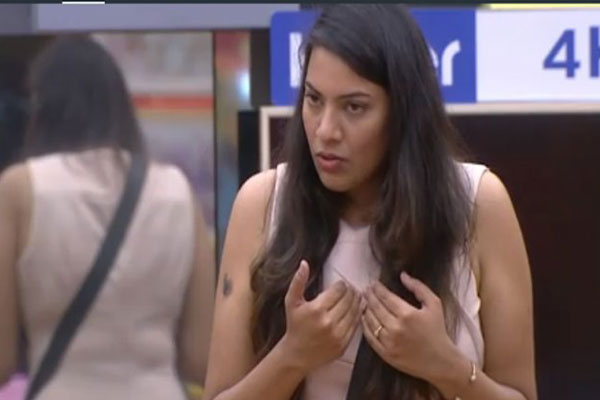 Earlier, Telugu360 published an article about dedicated PR in Bigg Boss house. ( Click here for :Dedicated PRs spoiling sport for Bigg Boss show?). Some people didn't understand it correctly and thought 'Dedicated PR' means saying all the fans of 'particular housemate' are fake. It doesn't mean that. It actually means, contestants making arrangements with some agencies to 'speak for them', to 'boost their image', and make concerted efforts to galvanize public opinion in favor of them. Some denied existence of such thing, while some questioned "what is wrong with that". In the latest episode, one of the contestants, Geetha Madhuri confirmed existence of such dedicated PR in Bigg Boss 2 Telugu.
Geetha Madhuri, in a previous episode, was seen discussing with Deepti and Samrat about some of the housemates making "some arrangements outside" before coming into the house. To be specific, she was talking about Kaushal having made some arrangements to boost his image in social media and help him win the title. Nani questioned her what proof he has on this. The answer she gave shocked many.
Geetha herself got call from agencies:
Firstly, she revealed, she herself got such calls from agencies. She told, after she was selected for Bigg Boss 2 telugu and before joining the house, some agencies came to know about this and called her putting forward the proposal to "buy" such support, which she denied. She also told, those agencies told her, some of the contestants have already enrolled themselves for such support. So, she added, she has a doubt that, even though she denied, some others might have really made arrangements with such agencies.
Nutan Naidu told Geetha about Kaushal's arrangements:
When Nani asked Geetha, why did she raised this topic and on whom she has doubt, she replied – she has doubts on Roll Rida or Kaushal making such arrangements. She also told that she even asked Nutan Naidu, who re-entered the house regarding the same. For that Nutan replied "you should also have made such arrangements". Then she persisted Nutan about Kaushal making such arrangements and Nutan helping Kaushal to make such arrangements for which Nutan Naidu revealed Geetha that Kaushal did ask him for that help. This is almost like a bomb on Kaushal. Nani asked Kaushal on this but he denied making any such arrangements.
Kaushal achieved what many heroes from Star families couldn't achieve:
However, in an attempt to prove the existence of such dedicated PR, this episode went overboard and it even might have offended the genuine fans of Kaushal who got connected to him emotionally. Because, just PR arrangements won't help any contestant win the title unless he gets some genuine fans. Kaushal is the biggest beneficiary of the season, irrespective of who will win the title as he was able to get people connected with him emotionally within 100 days, a feat which many actors from star families not able to achieve.
Anyway, people are waiting curiously about who will win the title of Bigg Boss 2 Telugu, which will be revealed in couple of weeks.