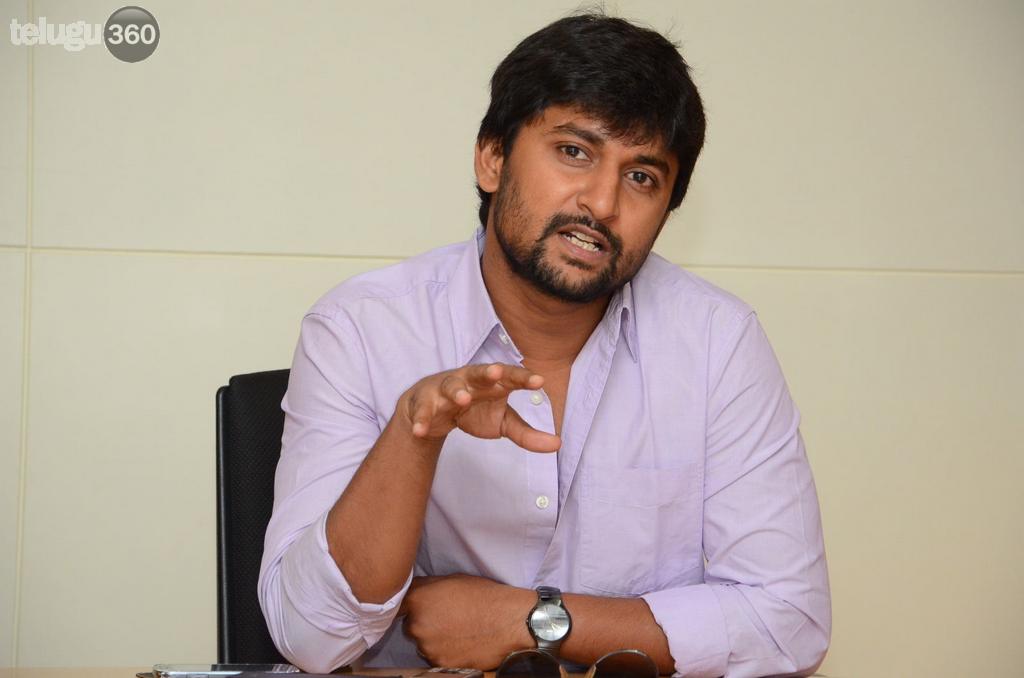 Nani definitely wasn't written off during the lull he had after Aaha Kalyanam but there was a sense of worry on why he isn't being seen regularly. A man who entered the industry the hard way, being an assistant director, always cautious about ensuring variety to what he does, settling for quality over quantity, well, the result of Bhale Bhale Magadivoy proves it all. He did have that worry when Maruti called him for a script narration, but was pleasantly surprised with the freshness he brought about in the comedy at a time when such scripts were all about creating confusions, insulting people, playing with dialogues. Being flooded with messages and with the film's collection hitting the 20 crore mark and nearing the $1 million mark in USA, he's equally excited about his next with Hanu and Mohan Krishna Indraganti, the latter being a project that'll have him unite with his debut director after 7 years. More on that, in an exclusive chat with Telugu360.com
Did Maruti's credentials worry you when he said he wanted to make a movie with you?
The script is all about the man's defect. I did not see Ee Rojullo or Bus Stop but saw Prema Katha Chitram. I felt it was fun. He called and told me the story. At that time, I had no idea about the genre. Once he started narrating the story, I was laughing. Usually we think comedy is about ensemble actors hitting each other, a lot of confusion and funny dialogues; we have been used to that format. This looked different and moreover, a lot of people were asking me when I would do a film like Ashta Chemma and Ala Modalaindi. So, I immediately okayed his story. It is true I had a small doubt on him but once he got going, there was no stopping him. I think to reach here, he selected this genre and think he will not go back to making films that fetched him a negative reputation. He has a funny bone, a new Maruti altogether. After two days of shoot, he told me he'd never directed a performer and that this will be a very big film. I wouldn't believe anything good instantly but I knew it would be fun. But the kind of numbers, I am hearing of is unimaginable. Whenever all are saying it is now in the million dollars club, I can't believe it. For a medium budget film, this kind of success is unheard in the Telugu film industry. Baahubali created interest amongst people and actually it made them step out of their homes to see films in theatre.
Was it difficult maintaining consistency in the character?
I believe heroism is not about hitting 100 people and delivering punch dialogues. Ever since the film released, I have been flooded with five to ten thousand messages on social media. People texted me like bhaiyya chimpesav, chitthakottesav. Anthaka minchi heroism yemuntundi. By the time, I pick up the phone and hang it, I get 50 messages. When did an actor get credit for a film especially for a flaw in the character? K Raghavendra Rao and other directors complimented me and asked me how I managed to pull off a thin line without being too comical or too serious. It was all about elevating the character despite the defects. Take for instance, the pregnancy scene. People feel angry when he leaves her in the car and talks about the weather. Had it not been justified well, dealt or balanced perfectly, the film would have slipped.
How did you keep your spirit alive before BBM?
I was an assistant director before I became an actor. We survive on hope. Around two or three of my films didn't work and it created a big impact because of the delay surrounding its release. They sounded, Yemaindi Naniki, varusa parajayala tho and a lot more. That kind of publicity and news was a bit too much for these films. If I had done films continuously, people would have forgotten but since there was a delay between each film and it didn't work, I was spoken about. I always had scripts coming every day from top production houses. Somewhere I felt there was value for performers. My film might not have done well but it feels good that people are analysing the actor. I never heard so many stories as much as I heard when I was in that bleak phase. I never felt down which meant people believed in me.
How was it working with Maruti and what about your future projects?
It has been the most comfortable and fun experience. Maruti is a funny and a happy fellow who doesn't want to take tensions. He would be laughing while in front of the monitor like a kid, like an audience. That gives encouragement and positive energy. Comedy should be elevated and improvised 50 percent through performances; otherwise it won't go ahead. Me and Vennela Kishore would discuss the dialogues and he too would enjoy it. Shakalaka Shankar's role was limited as there was no necessity to go away or divert from the story. Within the story itself, situationally you can create so much fun. My next with 14 Reels is 40 percent through. There is one for Mohankrishna Indraganti with whom I'm working after 7 years. He makes sensible films and it all takes a right film to be back. For me there was a slide too. Now, suddenly after BBM, people are saying it is a 30 crore film.