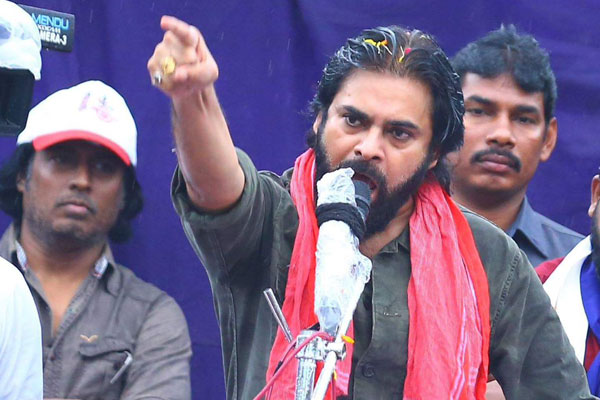 Pawan Kalyan yesterday meeting created ripples in political circles. the way he made attack on chintamaneni Prabhakar with scathing comments give lot of boost to janasena cadres. Thousands of people attended the meeting in West Godavari district and janasena party chief made direct attack on Chief Minister Chandrababu Naidu and Nara Lokesh. Yet many of the media houses either ignored are played it down while presenting this news.
Print media coverage:
Eenadu, the largest circulated Telugu daily, reported the news in page 3. the importance it give to this news is nowhere closer to what it gave when Pawan Kalyan has good terms with Chandrababu Naidu. Sakshi paper, owned by Y S Jagan also presented the news in page 3 and the space it gave told me this news is even or lesser then what Eenadu allotted. Andhra Jyothi paper, that is considered as pamphlet of Telugu Desam Party by political opponents, gave the news in page 13 and the space allotted to this news is very insignificant. Surya paper too gave the news in page 3 and Vaartha paper completely ignored the news. Among newspapers, only Andhra Prabha, whose owner is now in Janasena, presented this news as banner story.
Electronic media coverage:
Even in TV channels also, only 99 TV and AP 24 X 7 gave good coverage. NTV and some other channels reported the news but didn't cover it fully. But TV9 completely downplayed this news. Daily TV9 will have a big debate in the night, about a topic of importance for that day. TV9 big debate yesterday was GVL versus Kutumba Rao topic, that has become too cliche nowadays. Earlier, even Pawan Kalyan tweets used to have prominent coverage in this channel and there have been big debates about Pawan Kalyan comments. But this top channel yesterday chose to ignore Pawan Kalyan meeting that drew lot of public attention. Even though TV9 didn't cover Pawan's comments yesterday, today it scrolled prominently, Chintamaneni counter comments on Pawan Kalyan.
But nowadays people also know, where to check for Pawan Kalyan news. The top channels and top print media, seem to be assuming that people will not know the facts if they don't report. However such assumption is completely wrong in the age when low-salaried employees also using smart phones and watching videos online.
Overall, media channels are proving yet again that, they are indeed biased when it comes to presenting political news.