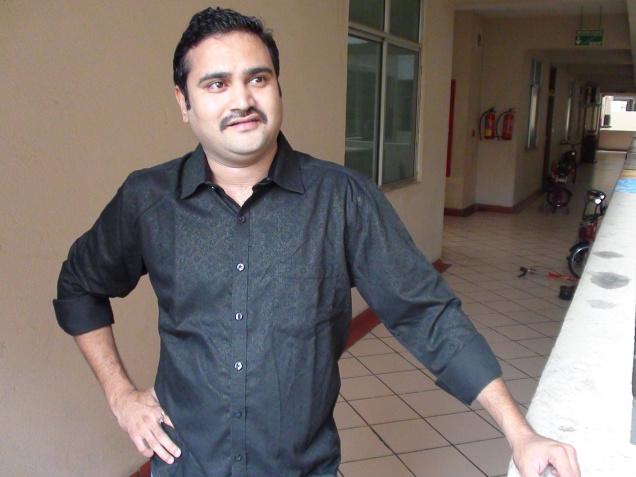 Rajasimha is a professional writer and can write in any slang and had written for 75 films in all genres,mythological, historical, folklore etc. At the moment, he is directing his long cherished dream Traffic Jam starring Sundeep Kishan and suddenly he is the centre of attention for writing dialogues for Gonna Ganna Reddy's role played by Allu Arjun. Here, he talks of his failure in moving his script and how indebted he is to Allu Arjun for pushing the producers to give him credit as a writer for his dialogues in Rudrama Devi.
I had completely designed Allu Arjun's character in Rudrama Devi. I came to the cinema field 16 years ago. In 2012, I did a blunder, establishing a production company and wanted to make my film Traffic Jam, i.e I wanted to produce it and lost all my money and slipped into depression for three years. I stayed away from the industry. I met Arjun once and he recommended my name to the team to see how I fared as a writer when five dialogue writers could not connect with the hero. That day I sported Anjeneya Swamy's mala. I had worked in 75 films at the script department and on 50 dramas. I just decided that I should work towards getting this particular script for Bunny okayed. I had written seven versions after which they said I should be writing in Telangana dialect.
Gunasekhar said it is a powerful character and at the same time very entertaining. It had dialogues like 'Gammunudavoy" "Na molathadu Lo Thadu", Addhi Lekka", "Sambho Shankara". I sat under a tree in Vikarabad forest as a shoot was going on and I wrote the Telangana Yasa. Tanikella Bharani called me today and said he called Bunny and congratulated him. Apparently, Bunny said all the credit should go to Rajasimha. He believed in me and traveled with me for a month. Before he came to the shoot, he rehearsed every dialogue in the dubbing theatre, got it recorded, took opinions from Pandits in Telangana Literature to make sure that the dialect should be respected and not ridiculed. It is only because of him that people are talking of me today after seeing this film.
Actually as a writer, I was never fortunate to get my right due. Ask the director and producer if I had contributed or not for Bommarillu and Parugu. I always wanted to be a director since 2008 and did not concentrate on my writing career. I have given some of the best dialogues for Boyapati and Allu Arjun's next, better than what I had done for Rudramadevi but the director is not giving me credit. Allu Arjun poraadi, athani samskaram, goppatanam choopinchadu, he gave me the credits for this film. If there is a hero like Arjun, no writer will move to direction. It is because of identity crisis, writers are turning into directors. When someone goes on script work to Allu Arjun, he never sends them without giving them lunch. He has exemplary manners.