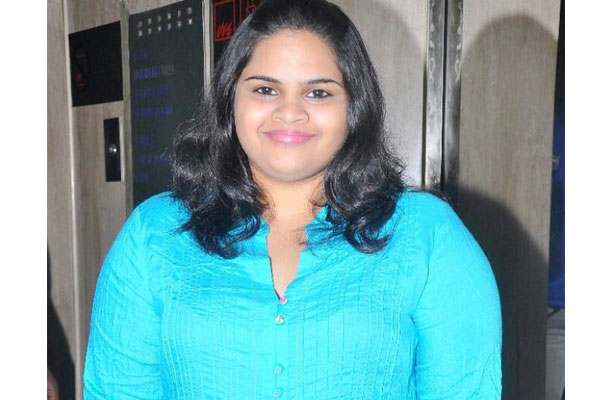 The soon to be 24, effervescent and cute Vidyullekha reveals that she was named by Satya Sai Baba and that it has been taken from a mantra. Talented, intelligent, spontaneous and affable, she owes her acting skills to her DNA; her father has been a veteran actor of 25 years and has worked in many television serials and she on her part has been in theatre for eight years. "It is a beautiful blend of both. At the age of 13, I saw an advertisement of an acting workshop and I joined. It became a yearly thing , the workshop would culminate into a play at the end of the year. It gave me a high and I wanted to do it for the rest of my life. I never wanted to do films. I wanted to take theatre to international level. In college, I did visual communication and enjoyed directing short films and in the process I got an offer to audition for a movie. I was sceptical, though I was exposed to it. I was not too sure if I wanted to be a part of it," says Vidullekha. In an exclusive chat with Telugu360.com Vidullekha talks about theatre, films and why she is not going to limit herself to comedy anymore.
How did you bag Gautam Menon's film?

It was not on my plan at all. My plan was to finish college, go abroad and study theatre. When I asked my father, he said go to the audition as there is nothing to lose. It was a Tamil film audition. Gautam Menon selected me for Jenny's role in Neethane Ponnvasantham. I told sir I would do it, finished college while making the movie. He also told me to do the Telugu version and said he would give me the dialogues in advance. The movie came out just as he wanted it to. He asked me to do the dubbing in Tamil and also Telugu. He instilled confidence as I still thought it was not the best idea. He got a Telugu tutor to sit with me and I finished my dubbing. The next film I was offered was Ramayya Vasthavayya. The director Harish Shankar told me he cast me not for my acting but for my voice. Today I thank Gautam sir for insisting me on dubbing and said I brought energy to the scenes. My Telugu now is pretty decent. It has been quite a journey and after I did my first film, I didn't want to continue. I thought I would go to theatre again but I was offered so many films. The slot for female comedian was free and after Kovai Sarala, there aren't many, so I guess I got them.
Don't you get bored performing the same play?

Never, because the audience is always going to be different and we feel the audience's energy. We did one play around 25 shows and it was never boring. Each audience receives it differently, each venue is different. The beauty of theatre is that it is not repetitive unlike movie shooting where same dialogue is being repeated. The co-actor can forget the dialogue but your intelligence has to kick in and you have to save the situation. There are no cuts. We do improvisation exercises, spontaneity exercises, the ones where we have to think on our feet and keep our creativity on our peak. Our directors will tell this is your scene and dialogue and say start and we have to make up each and every dialogue as we talk. There are impromptu plays too. The audience comes with a ticket but the artistes don't have a script. They just have a basic outline of the story and have to make up the dialogues where we have to perform to an audience without knowing the script. We use our left brain so much and the improvisation, jokes, timing that come along are magical.
Is theatre fetching?

You cannot survive on theatre, it is the basic thumb rule. There will be no sponsors. No one is even willing to pay for it. In Chennai and Mumbai, people encourage theatre. Tamil plays are also very well accepted. We have tickets going upto 2000 and 3000 Rs if the story is good and if the actors are promising and the play is getting good reviews. For 8 years, the appreciation and the kick I got out of performing kept me on here.
How did theatre change you, as you started very young?

The main thing it did to me during my teen years was the confidence to move forward. From being an introvert child, I became outgoing. I always have a small problem with Math and was not confident at all but I got the self confidence and started putting more effort in it. I made sure that the theatre workshop was made compulsory in school as I was made the cultural secretary and was in-charge of extra-curricular activities. I ensured the best theatre director in Chennai came and conducted a two week work shop. It improves your self esteem, creativity. Facing the audience is like facing the world. You break all inhibitions. It is like preparing a child to face the world, where otherwise in school, you are sheltered within the class room walls. I owe my personality to theatre.
Don't you get disturbed being labelled the fat girl in films always?

Comedy is not based on your body shape. People are appreciating your jokes, timing, punch dialogues, expressions on your face and not body shape. I can't believe and accept that humour can stoop so low , making fun of people's appearance. Maybe it is old school humour. People now want intelligent jokes. In some films, it is aesthetically done. It depends on directors taste, outlook and how he wants to project you to the audience. I ask him for the story and how it will contribute to the story. Beyond a point, I can't say anything or I can only make a polite request. The audience is also not appreciating. Some senior people said even if you don't lose weight, you will still get chances because of your acting skill, sense of humour, quirkiness, accent, voice.. etc. I think it is about being typecast. I am tired of weight obsessed jokes. I don't want be cast based on my size. I want to make a choice. For health reasons, I am making an effort to lose weight. I want to do negative, sister and other roles too.
What are the other films you have signed? How do you spend time during non shooting hours?

Boyapati-Allu Arjun film, Sundarapandian's Telugu remake, Sudheer Babu's Bhale Manchi Roju. Dynamite has just released. Raju Gari Gadi, a horror comedy is in the pipeline too where I played a lead role. I have been suggested by my father to focus on cinema. Six years later, I can always go to anchoring and television. Right now, my schedule is very tight. I have been very extremely blessed. In a short span, doing films with top stars is truly a blessing. Puli is going to be a big release. When you get into the cinema industry and open up to different people, everything from birthdays and anniversaries are celebrated at shooting spot. I love to travel any little time I get. There is no other better way to get exposure other than visiting another country and meeting people. All my friends are non-filmi people.