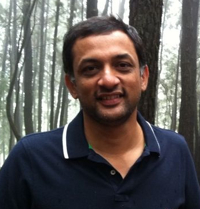 [dropcap]F[/dropcap]or Baahubali producer, Shobu Yarlagadda, choosing a project depends on the relationship that he shares with director and artistes. Read on to know more about him.
When did your association with Rajamouli begin?
My relationship with him goes very long back even before our professional association started. I know him since he started working with Raghavendra Rao garu. We were supposed to do a small film first but it never materialised. Then we did Maryada Ramanna, we struck a good rapport and became good family friends. It is more personal friendship between two families. After Maryada Ramanna, he was supposed to do a big project for K Raghavendra Rao. Since Raghavendra Rao didn't want to handle it on his own, given it is a huge product, we stepped in. It became a joint production between him and us. Arka Media Works belongs to me and Prasad and we do some work with RK Films. I came back from US in 96 and did a couple of businesses and it didn't work and was looking for a new avenue. Then me and Prasad decided that television is a good option. We entered television and do selective work. Films is a natural progression.
[pullquote position="left"] Around four thousand screens all over the world will come out with Bahubali. There is so much post production which is a big aspect. For all of us artistes and technicians, producers..it is a once in a life time experience. [/pullquote]
How do you choose your project and people?
It is the relationship that we have with the director and artistes. Krish came and narrated the story. It was more of an accidental narration and we did it. Maryada Ramanna was our first film and we wanted to do it with someone we could trust and we are comfortable with it. We are not in a hurry to do a film; television is our bread and butter and that goes on. Movies, unless we have rapport comfort level and we see some value as we bring as producers to the project, we don't do it. We bring a lot to the table, not just money. There are two or three lines but Rajamouli wanted to do a folklore or a period film and not a contemporary subject. He and his father went back and forth and both of us liked this subject.
You are being called the real hero for believing in the project
Partly it is inherent in me, not to get perturbed. We are used to ups and downs and we have lot of belief in this project and we know will pull it through. When someone is working, the entire team is genuinely working for the project with genuine interest, you trust and want to support the project to the best. By the time we finish the second part it will be four years. There have been ups and downs, the budgets have gone up. There were certain hiccups and we had to reschedule the whole thing as Prabhas had to go through a surgery. One year has been allotted to pre-production. Even after one year, we did parallel planning and designing. We were mentally prepared in a way that it will be out in 2015, for a long haul. Also we were prepared that the budget will go up, but it went up little more than expected.
How important is Bahubali for TFI ?
It is important in a way that if it does well, the buoyancy will be there. It will spread to the distributors and exhibitors. It will be positive. It will give confidence to others to try something out of the box not necessarily on the same scale. It will bring Telugu film industry on the national map. We have been covered in international trade magazines; they came to the sets and met us. The vastness, the scale is making news and also Eega, the last film of Rajamouli has become an internationally a cult film. It has been screened in film festivals. They are aware of the film and believe in this director.
Risks involved in the making of the film
It will definitely have a strong impact if something goes wrong but I don't foresee it. About ups and downs, mainly it is trying to get the film ready on time, on schedules in budget. We are trying to do something. It is going to cost more, how much more can we stretch it? These are the challenges we addressed. Rajamouli strongly believes in emotion and the scale to go with it. He didn't want to compromise on the points. Some areas we reduced and some we didn't. Second part sixty percent has been shot and the climax and some action episodes is pending.
Reason to split the film into two parts?
Beyond two and half hours, however great a film is, no one has the patience to sit through a film. Both the budgets were such. One film doesn't justify so much spending. To make it economically viable, we made it into two parts. Originally, the intention was to make one but when the story was written it was coming to three and a half hours to four hours. When we try to make it two and a half hours we lose the essence and the costs were high. We went back to the drawing board and re-looked at the story and screenplay and decided to make two independent films which will slightly increase the budget but the sets would be the same and it would make more economic sense across two films. We would be doing justice to both the stories. It is a continuation; it is one story told in two parts and would have an independent feel.
Confidence levels after execution of the project
This is at a different level and scale. It required a lot of patience, persistence, lot of  detailing, going into minute things. The bigger picture is to ensure the film is made in time in this much budget and it travels to all languages and rest of the world as far as possible. To ensure this happens, you need to do a lot of things at many levels and I was lucky to have people to take it everywhere. Lot of support came in from family and friends for financial and emotional support. RFC played a key role. They provided infrastructure and lot of financing for the film. That is one aspect and to have a place spanning over 2000 acres and getting to do multiple things in one place, the logistics would have been difficult but for RFC. We had sets, a floor with 1000 people working. We could go and check when we wanted. Eighty percent in RFC and then little in Mahabaleshwar, Kerala and Bulgaria. After the visual effects and CG, it will transport you into a different world. Around four thousand screens will be ready for Bahubali. There is so much post production, which is a big aspect. For all of us artistes, technicians and producers, it is a once in a life time experience.
(Sunita Yalavarthi)