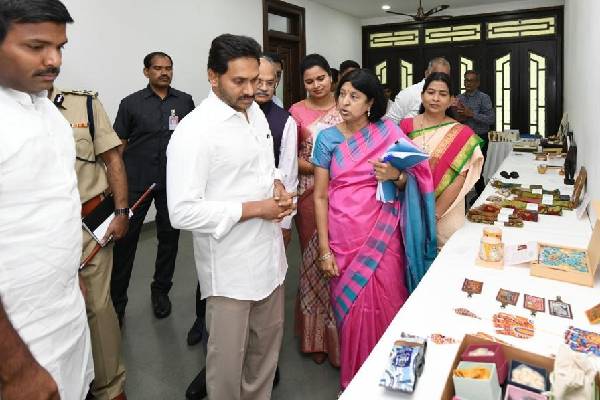 AP Chief Minister Y S Jagan Mohan Reddy reviewed the arrangements for Global Investors Summit and G-20 Summit to be held in Visakhapatnam in March at his camp office in Tadepalli on Thursday.
Briefing the chief minister on the arrangements for the Global Investors Summit slated for March 3-4, the officials said, "Between 2014-2019, the state conducted three summits and signed MoUs for 18.87 lakh crores. But only Rs 1.8 lakh crore was materialized.
Further, the average annual investment during that period was Rs 11,994 crore. During the current government, the annual average investment between 2019-2022 is Rs 15,693 crore. From June 2019 till now, investments of Rs 1,81,821 crore have been received, and 1,40,903 people have received jobs."
"Prepare a comprehensive program to explain the investment opportunities in the state. Andhra Pradesh should be a platform for the manufacturers in the world, including green energy."
Officials said that roadshows will be organized in Taiwan, UAE, Germany, Japan, South Korea, and the USA regarding the Global Investors Summit.
The Chief Minister said, "Study the way MSMEs are running in those countries and focus on adopting the best management in our state."
The Chief Minister reviewed the arrangements for the G-20 Conference scheduled for the last week of March in Visakhapatnam. Officials informed CM Jagan that 250 delegates from all over the world are expected to attend the conference from G20 countries.
Since the G20 conference on Infrastructure Working Group meeting will be held on March 28 and 29, the Chief Minister asked the officials to beautify the city of Visakhapatnam and undertake necessary roads and development projects.
"All the tourist attractions in Vizag and nearby areas should be in pleasant conditions. And the safety of the delegates is important so strict measures should be in place," said the Chief Minister.
He also asked the officials to have programs on the state's revolutionary schemes like Navaratnalu to impress the representatives on the opportunities available in AP for investors.
"From the ease of doing business to growth indicators where Andhra Pradesh is topping, everything should be showcased to the delegates," said the Chief Minister.
Officials said that they are creating a mobile app for the convenience of the delegates attending the meeting with all the information regarding the summit, cultural excursions, and so on.