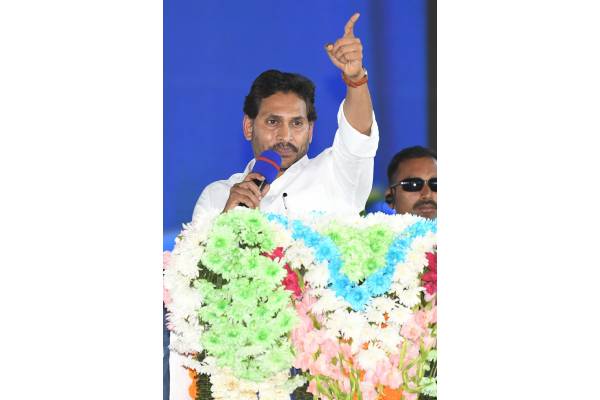 Chief Minister YS Jagan Mohan Reddy termed TDP chief N Chandrababu Naidu and Jana Sena chief pawan Kalyan as political wolves and warned them that he would thwart their attempts to denigrate the YSRCP Government single handed like a lion with the support of the people.
Addressing a public meeting at Vinukona in Palnadu district on Monday, the Chief Minister came down heavily on TDP and its friendly media for the false propaganda against the government and misleading the people.
Observing that the TDP and its political ally Jana Sena are coming together as wolves with the support of their friendly media for political gains, he asserted that he would take on them like a lion alone.
He said that the State is witnessing not a caste war but a class war between pro-poor people YSRCP Government on one side and political backstabbers and hypocrites enjoying the support of the capitalists on the other.
He warned that he would take on the Gang of Four that looted the State lock, stock and barrel during the TDP rule and Chandrababu Naidu's foster son who has no guts and wits to question the robbers.
He called upon people to choose between YSRCP which stands by its commitment and is implementing the election manifesto in letter and spirit and political hypocrites led by TDP and its friendly media which had pursued a policy of plunder, stash and devour like robbers.
Asking the people not to be misled by the false propaganda of political adversaries, the Chief Minister appealed to them to stand by YSRCP that has been moving forward implementing various welfare schemes and empowering every BC, SC and ST family and helping them to improve financially.