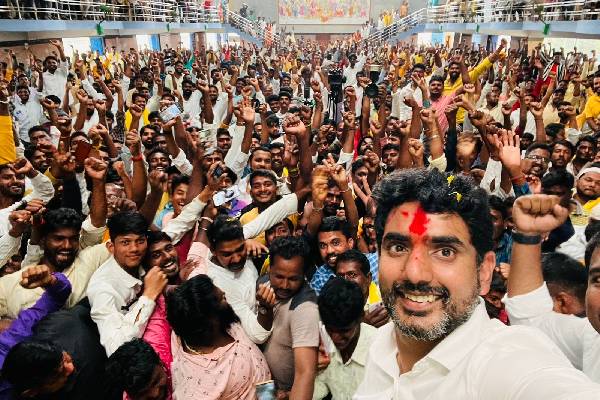 TDP general secretary, Nara Lokesh, on Monday said that when the TDP was in power the State progressed well but after the YSRCP came to power it is moving in the reverse direction.
Interacting with the youth at the 'Hello Lokesh' programme organised at the GMR Kalyana Mantapam by the locals here as part of his ongoing pada yatra 'Yuva Galam', Lokesh said that Andhra Pradesh was moving on the progressive path for 67 years. "But after Jagan Mohan Reddy has become the Chief Minister the State is fast moving in the reverse direction," Lokesh stated.
Observing that he launched the 'Yuva Galam' only to stand by the youth which are fighting for their future, Lokesh felt that this is a very good opportunity for the youth to send Jagan home. Maintaining that Jagan is taking shelter at the Tadepalle Palace, the TDP general secretary said that the Chief Minister of a State should always be among the people.
What happened to the Special Category Status for the State which Jagan promised before coming to power, he asked and pointed out that the youth lost employment opportunities after Jagan assumed charge as the Chief Minister. "Except for falling at the feet of the elders in Delhi, Jagan is not raising the State issues with the Centre," he noted.
The Chief MInister who promised three lakh jobs to the youth every year through job calendar is now issuing job-less calendar, he said and pointed out that the vacancies in police department and the posts of teachers are not being filled. Why Jagan, who was totally in support of a single capital before coming to power, is now raising the three-capital slogan, Lokesh asked.
Maintaining that TDP president, Chandrababu Naidu, is a brand for providing jobs and employment opportunities, he said that Jagan is a brand in chasing companies out of the State. "Decentralisation means providing employment opportunities to the youth as per the population ratio in different regions of the State but not raising slogans like three-capitals which is not possible," Lokesh remarked.