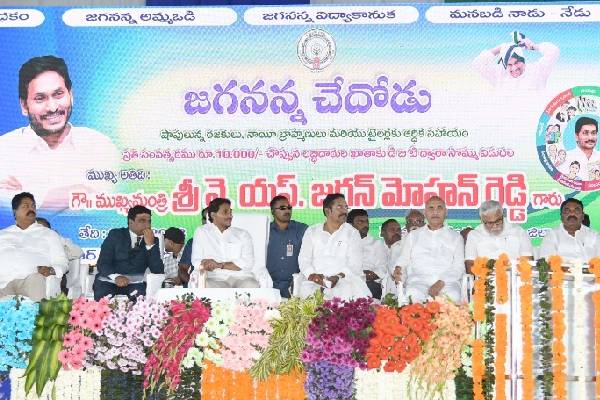 Chief Minister YS Jagan Mohan Reddy has released Rs. 330.15 crore under Jagananna Chedodu towards financial assistance for 3, 30, 145 eligible Rajakas, Nayee Brahmins and Tailors. The amount will be directly credited into their bank accounts.
The chief minister released financial assistance at Vinukonda in Palnadu district on Monday. The state has registered a growth rate of 11.43 per cent turning it into a model state for the entire country.
While the total amount disbursed to the people through DBT under various welfare schemes has so far reached Rs. 1, 92, 938 crore, it equals to Rs. 3,00,000 crore when benefits given to people under non-DBT schemes also included, he elucidated.
The Chief Minister said that 30,00, 000 house site pattas were distributed to women and the support extended to the women's self help groups turned their societies to A grade from C and D grades enjoyed by them during the TDP rule.
In response to the appeals of the local MLA Brahma Naidu, he sanctioned Rs.12 crore for implementing a drinking water scheme to benefit 12 villages in Gollapally Mandal and Rs.15crore for upgrading the local 50-bed hospital into a100-bedded hospital. He also accepted the request of the MLA to establish a college here to cater to the needs of the minorities.
On individual count, 47, 533 Nayee Brahmins, 1, 14, 661 Rajakas and 1, 67,951 tailors would benefit to the tune of Rs. 47.53crore, 114.67crore and 167.95crore respectively from the scheme being implemented for the third consecutive year.