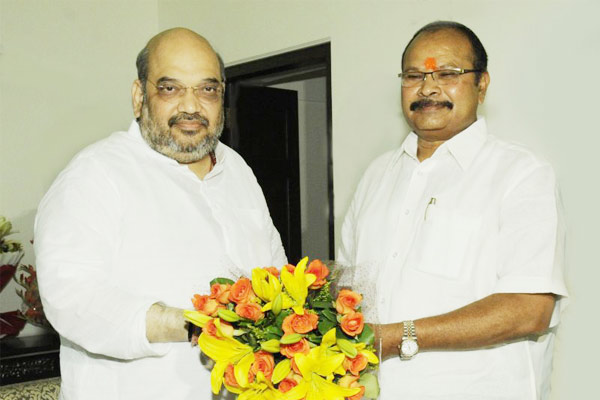 The Bharatiya Janata Party had finally cleared the long-pending issue of naming its president for the AP unit. It had made former Congress minister Kanna Lakshminarayana, as the State unit president while MLC Somu Veerraju was made the party election management committee convenor. As both the leaders are from the Kapu community, it is seen as BJP's mission to woo the community voters in its favour. This attempt was made in 2009 by actor Chiranjeevi who floated Praja Rajyam Party and had won just 18 Assembly seats. Though later he had merged the party with the Congress, the community remains party less hanging on to the Telugu Desam Party for decades.
Now, with the twin appointments, the BJP wants to make inroads into the Kapu community in the State, with the TDP dominated by the Kammas and the YSR Congress held by the Reddys, the two dominant castes in the State. It was, perhaps for this reason, Kapu patriarch and former minister Mudragada Padmanabham, had a one-to-one meeting with Kanna Lakshminarayana, hours after the latter's elevation. Though what transpired between the two leaders is not known to the outside world, it is assumed that the two leaders must have discussed about giving greater elevation to the community through BJP.
Kanna Lakshminarayana is a strong leader from the Kapu community, particularly in the coastal districts. He was a staunch follower of late Vangaveeti Mohana Ranga Rao, who is known as an icon for the community here. Comparatively, he enjoys greater support in the community that would matter to the BJP, in terms of votes.
But, it is seen as a delayed experiment. Kanna's elevation was expected at least a year ago when the party was in its peak in the State, though was in alliance with the TDP. Its incumbent, Kambhampati Haribabu and its former senior leader M Venkaiah Naidu, were seen as more loyal to the TDP than the BJP. There was resentment from majority of the party leaders in the State against these two leaders and strongly wanted Kanna to be made the party chief to take on the TDP.
However, over the months, political developments have put the BJP on death bed in the State with people strongly believing that it had done injustice to the State and Modi-Shah have betrayed the State by denying the special category status. There is no positive mood for the party as it was there in the past and Kanna's elevation may not help the party get stronger in the State. Though Kanna enjoys mass support, the BJP had lost its image and nothing would help the party to win even a single seat in the next election. Thus, Kanna's elevation is seen as a medicine delayed and not much of a treatment could be done to strengthen the party.