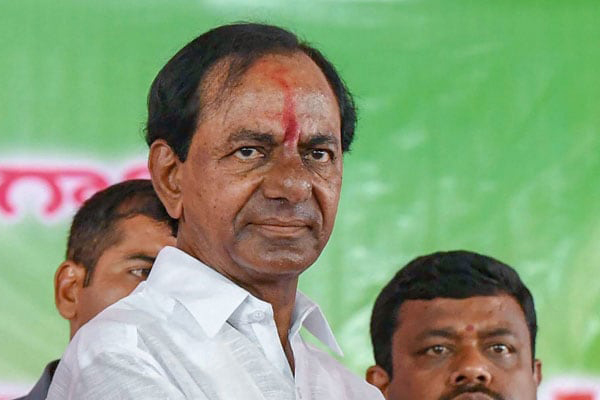 Telangana chief minister K Chandrashekhar Rao seems to be more keen on the outcome in Andhra Pradesh than Lok Sabha seats in Telangana. Since the election campaign concluded, KCR is spending more time on knowing brewing sentiment in the AP and impact of his support extended to Special Category Status (SCS) to the Andhra Pradesh.
TRS supremo on Tuesday concluded his election campaign focusing more on AP issues like special status and Polavaram project.
Addressing the last public meeting in Vikarabad, KCR spoke clearly whom he's supporting and who'll be the winner in AP elections highlighting the YSRCP chances. After initial support to YSRCP, KCR kept silence fearing a backlash in AP and this would benefit TDP on the lines how the pink party gained majority after Chandrababu Naidu campaigned in Telangana during Assembly elections held in December 2018.
The moment KCR announced his support to special status to AP, Chandrababu Naidu didn't waste a minute to exploit the advantage of it by highlighting the undercurrent friendship of TRS and YSRCP. This has left confusion over who'll benefit from KCR's remarks. Political analysts are skeptical over guessing whether YSRCP or TDP.
TRS in Assembly elections won 88 MLA seats and immediately made it 90 as two independent MLAs joined the pink party. Later two TDP and eight Congress MLAs defected to TRS taking the total tally to 100. With this, TRS enjoys more than a comfortable position in the 119-seat Telangana Assembly. Now, TRS has set a target of winning 16 MP seats out of 17 in Telangana leaving one to its friendly party AIMIM.
Telugu360 is always open for the best and bright journalists. If you are interested in full-time or freelance, email us at
Krishna@telugu360.com