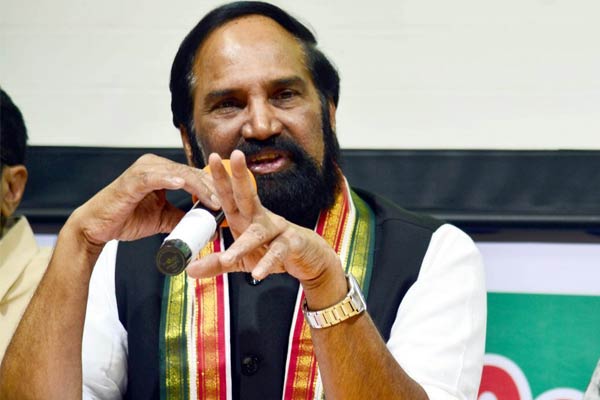 KCR has successfully created anti-Andhra sentiment once again by raking up his favoured Telangana sentiment among the people with his pungent attacks on Chandrababu, YSR and others. Congress leaders are finding it difficult to effectively counter KCR attacks simply because they have joined Grand Alliance which included TDP.
Congress Telangana President Uttam Kumar Reddy seems to have realized the need for giving a more fitting reply to criticism being made by rivals. He is now saying that KCR and family are looting the state more than Andhra rulers. He addressed students from different universities in Hyderabad at Gandhi Bhavan.
Stating that the benefits of statehood have not reached deserving families of martyrs and agitators but it was solely KCR's family which is reaping all the fruits of those sacrifices made by students and others in the movement.
It is well known that KCR has been mounting a direct attack on Chandrababu Naidu saying that Naidu was plotting to destroy TRS by conspiring with Congress. Very strategically, TRS chief is directing more of his criticism at Naidu rather than Congress leaders. This has triggered an Andhra-centric debate getting wider attention even as Congress leaders were not able to effectively counter anti-Chandrababu rhetoric.
Former TDP leader Revanth Reddy was also not able to give a fitting reply to TRS criticism of Naidu as he is now with Congress. On his part, Chandrababu Naidu has also repeatedly said there is undue criticism against him regardless of the fact that he is not a contender for chief ministership in Telangana any more.
Now Uttam Kumar seems to address this issue in a different way. Without taking any particular name, he says that previous Andhra rulers are far better than KCR and his family. This includes Chandrababu as well.
The mention of Andhra factor seems to appeal to the youth and masses, for good or for bad. One has to wait and see how Uttam Kumar will take forward his debate on Andhra issues to make required political gains.
Telugu360 is always open for the best and bright journalists. If you are interested in full-time or freelance, email us at
Krishna@telugu360.com