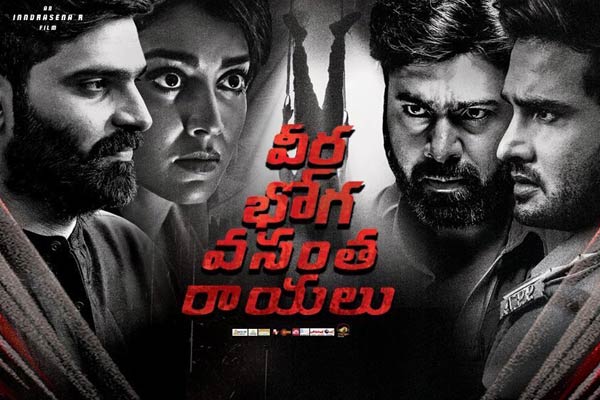 Veera Bhoga Vasantha Rayalu Review Rating
Telugu360 Rating 1/5
Veera Bhoga Vasantha Rayalu is touted to be a mystery thriller starring Sudheer Babu, Nara Rohit, Shreya Saran and Sree Vishnu in lead roles. The trailers and teasers laced with suspense elements have garnered some interesting buzz on the film.
Will the film manage to impress audience? Let's find out.
Story:
This film story consists of three crime sub-plots run in parallel. The main plot is about a missing plane carrying Indian cricketers and celebrities, next plot is about series of child abductions in Hyderabad city and last one is about a young boy's complain about his missing home. Special investigating officer Deepak Reddy (Nara Rohit) and Neelima (Shriya Saran) are assigned to airplane case, S.I. Vinay (Sudheer Babu) works on missing home case. The hijacker demands 300 criminals should be killed by the government, to release equal number of hostages. Will the government accept his proposal? What's the underlying connection between the three sub-plots forms the rest of the story.
Analysis:
This crime mystery genre film starts off with some abstract scenes which increases curiosity but the excitement is short lived. Very soon audience will realise this is another weak plot film that pretends to be of larger canvas. A plane hijack, hijacker demanding the government to kill 300 criminals to release the 300 innocent, etc points would be good on paper but in the execution is terribly poor standard. In many shots, they reused youtube video clips to depict missing plane or news channels video bytes. The gruesome child abductions, a 12-13 years young boy becoming criminal etc elements were unwarranted. There is much blood and gore in the film. Illogical 'missing of a home 'thread, Sri vishnu killing 300 criminals and kidnapping many others etc elements are totally illogical. The children episodes are absurd. Overall this two hour 5 minutes of patience testing feature film is worst one in the recent times.
The young heroes Nara Rohith and Sudheer Babu are known for selecting somewhat tasteful subjects. When both accepted to work for this film, curiosity factor has been increased on the product. Current trend is churning out low production cost films in disguise of murder mystery and horror genres. If content is strong enough, audience won't mind low budget films. However, this film neither have content nor production values. Writer, Director Indrasena failed to make any positive impression with this film. Cinematography by Naveen Yadav is okay. Apparao Bellana production values are poor. Many T.V serials' single 30-minute episodes may cost more than this film.
Performances:
Sudheer Babu as S.I. Vinay got lengthier role than other two, he did perform well. Nara Rohith as special officer, Shriya Sharan as his colleague got limited opportunity to do any performance. Actor 'Sri Vishnu' who is known for boy next door roles, played antagonist role. His getup is odd, dialogue delivery is terrible. Maybe he'll regret doing this role for next few years. Remaining cast is forgettable
Positives:
Negatives:
Terrible production values
Unengaging scenes, narration
Blood and Gore
Farcical three plots
Verdict:
'Veera Bhoga Vasantha Rayalu 'is a disengaging mystery film with a lot of blood and gore. With poor production values and illogical scenes this film is avoidable.
Telugu360 Rating 1/5
Release Date USA : 23rd Oct, 2018
Director : Inndrasena
Music Director : Mark K Robin
Producer : Apparao Bellana
Starring : Nara Rohith, Sudheer Babu, Shriya Saran and Sree Vishnu
Telugu360 is always open for the best and bright journalists. If you are interested in full-time or freelance, email us at
Krishna@telugu360.com