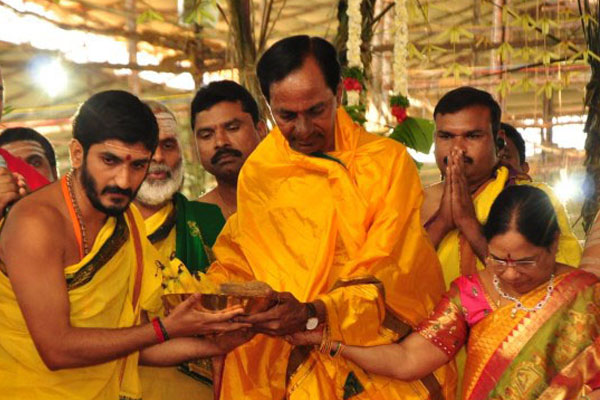 Hyderabad: Telangana chief minister K Chandrashekhar Rao, known for his belief on astrology, numerology and homams. KCR is reportedly holding discussions on Sahasra Ayutha Chandi Yagam. During his visit to Swamy Swaroopananda Saraswati in Visakhapatnam on Sunday, KCR is believed to have discussed on Sahasra Ayutha Chandi Yagam. Sources said that very soon the date for Sahasra Ayutha Chandi Yagam will be finalised. During the campaigning for recent Assembly elections also, KCR performed Raja Shyamala yagam and swept the polls in Telangana.
It may be recalled that KCR in 2015 December created tremors in the country by performing Ayutha Chandi Yagam at his farm land at Erravalli in Medak district.
At Swamy Swaroopananda Saraswathi's ashram, KCR along with his wife performed a homam and offered prayers to Raja Shyamala, Subramanya Swamy, Anjaneya Swamy and Dakshinamurthy and sought blessings for Telangana state. Later, he held personal discussions with Swamy Swaroopananda Saraswathi.