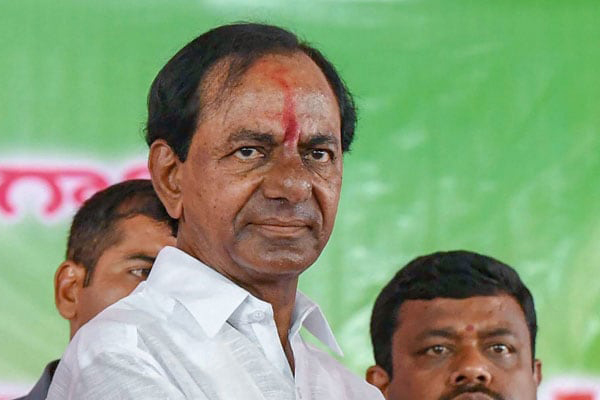 The Chandrasekhara Rao government forcibly acquired high-value land from poor persons and gave it to an affluent Swamiji in Yadadri limits. Costly land worth nearly Rs. 10 Cr was involved in this transaction. Fulfilling KCR's earlier promise, 2.75 acres land at Gundlapalli area was registered in the name of Jeeyar Integrated Vedic Academy (JIVA) already. Reports say that the local realtors have offered Rs. 1 cr per acre to these poor families in 2015, but the government did not allow these transactions with a clear strategy of its own. The farmers' worst fears came true as the Telangana government acquired the same land and gave it to Jeeyar Swamiji.
Interestingly, the KCR Circar is using force to acquire the lands of the poor. Moreover, it is saying that thrice the book value of the lands were being offered to them. Because of this, a sense of fear has struck the residents of nearly five villages in Yadadri area. The massive Yadadri project has become a big shock to them. KCR is developing the Lakshminarasimha Swamy Temple here as a global pilgrim centre on the lines of Tirupati.
In respect of Gundlapalli poor farmers, their lands are worth nearly Rs. 3 cr in open market but the government is offering a nominal amount only. Though the government is saying that it would give three times the value notified by the sub-registrar, this amount will not reach anywhere near the market value.
1/3 :

Telangana Government via YTDA has registered 2.75 Acres land near Yadadri Temple to Jeeyar Academy of ' Tridandi Chinna Srimannarayana ' at a throwaway price.

Private Market value in this area is > 10 Crores , given out for nominal 16 lakhs pic.twitter.com/Ml2XEsUT0J

— Telugu360 (@Telugu360) September 12, 2019
3/3 :

Public are under dark , Unsure even if state Cabinet was informed about Yadadri land being distributed at Whims and Fancies of few disguised as religion

No public announcement.

Very recently 25 Crore worth Kokapet ( HYD ) land was given to a so called swami from Andhra

— Telugu360 (@Telugu360) September 12, 2019
Telugu360 is always open for the best and bright journalists. If you are interested in full-time or freelance, email us at
Krishna@telugu360.com