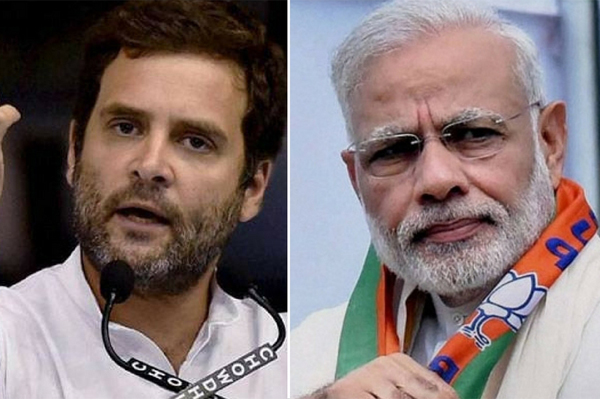 With the 2019 Lok Sabha elections approaching fast, several surveys are being conducted by the agencies across the country to find out the 'pulse' of the voter and to understand the mood of the nation. One such survey that has been done on periodic basis and followed by political observers is India Today "Mood Of The Nation" survey. The India today-Karvy Insights Mood of the Nation (MOTN) survey, done about seven months ahead of the Lok Sabha elections, considers three possible scenarios and predicts the outcomes in these 3 scenarios.
Scenario-1 : NDA of 2014 vs UPA of 2014
This means, the arrangement of allies on the UPA and NDA sides is comparable to the 2014 Lok Sabha elections. In this scenario, MOTN predicted – 83 seats for Congress (only 44 on 2014, it means Congress gains huge), the BJP is expected to get 245 seats (vs 282 in 2014, which means no magic number for BJP alone this time) and Others 215
Scenario 2 UPA+ (i.e. UPA as in 2014 + new found allies of UPA)
This means, UPA includes the SP, BSP and TMC in a pre-poll pact this time. These parties were not in UPA in 2014. In this scenario, UPA +SP+ BSP +TMC will be fighting against NDA i.e. NDA as in 2014. In this scenario, UPA did even better. As per MOTN survey prediction, UPA will be getting 224 seats in this scenario, NDA will get 228 and others 91.
Scenario 3 NDA+ (i.e. NDA with newly found allies)
In this scenario, NDS is added with south Indian parties like AIADMK and YSRCP. At the same time, TDP and PDP that quit NDA are added to UPA. If this happens, as per the survey, NDA+ is likely to get 255 seats whereas UPA+ will get 242 seats. Moreover, NDA has found new allies in the states from the Naveen Patnaik-led Biju Janata Dal (BJD) and KCR's TRS party. If TRS and BJD also added to NDA+, as per the survey, NDA+ will get 282 seats and UPA+ will get 242 and the remaining seats will go to 'Others'
Interestingly, all Telugu parties, TDP, YSRCP and TRS have role reversals in this scenario 3. TDP supporting UPA, TRS supporting BJP and YSRCP supporting BJP – all these are drastic political changes as far as Telugu states are concerned.
But on the whole, in all the scenarios, NDA+ remains ahead of UPA+ in terms of seats. So, it seems UPA with its best weapons also may not win against NDA.
In this article we have seen MOTN with respect to political parties and alliances.
In the next article, we will see Mood Of The Nation towards political personalities.
Click here for part 2 – Key takeaways of MOTN survey- Part 2: Best PM candidate and best CM