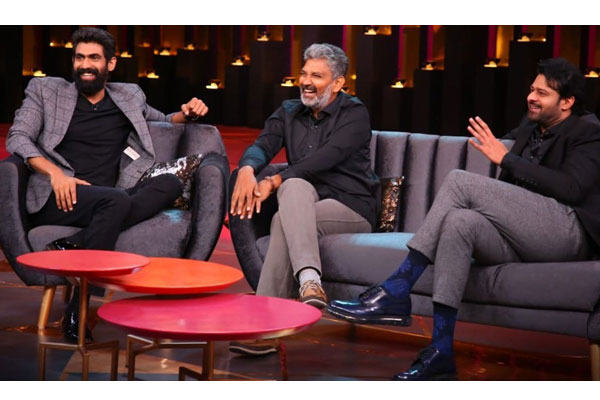 Koffee with Karan
Baahubali trio Prabhas, Rana and SS Rajamouli debuted in the popular chat show 'Koffee with Karan' in its latest episode and it was aired this Sunday evening. From personal lives to profession, the trio spoke with candour and made this one of the best episodes in recent times. There were a lot of candid revelations and funny jinks throughout the show and there was nary a dull moment in the episode.
The show started with Karan asking about the working experiences of the trio while doing the magnum opus period drama Baahubali. While Rana said it was like going to an acting school learning a lot of things, Prabhas said he believed in Rajamouli's vision and execution. The trio revealed that they were so tensed the day before the film's release. Prabhas stayed in Delhi and Rana flew to Mumbai on the day of Baahubali release. Rajamouli said they didn't expect the impact and reception it got in audience after the release.
On who is the bad boy out of the two, Rajamouli pointed to Prabhas. Both actors said they are single and are not dating any one. When Karan Johar asked Prabhas if he is dating Anushka, he said there is no truth in rumours and said she is just a best friend from the past eight years. It has also been revealed that Anushka's actual name is Sweety.
The rapid fire round is the most exciting part of the episode. Both Rana and Prabhas have voted for Deepika Padukone and Anushka Shetty as the sexiest actresses at present. Rana also opened up about his relationship with Trisha and said they dated for while before calling it splits. ' Being Single is the best way to be' said both the actors. They preferred Ranbeer over Ranveer among the current generation of actors in Bollywood.
About the order of preference of actors according to their screen presence, Prabhas answered NTR, Mahesh Babu, Bunny and Charan. Prabhas also revealed that he prefers food over sex. Rajamouli came up a startling facts about Prabhas' farmhouse and how big a food lover he is. Rana said Mahesh Babu and Namrata give couple goals. Rajamouli said he has excelled in capturing the emotions with actions than any other filmmaker. He revealed that Mahanati is one recent film which blew him away.
Rajamouli took home the coveted Karan Hamper for his honesty and abruptness in the rapid show. He also aced over Rana and Prabhas in the gaming round.