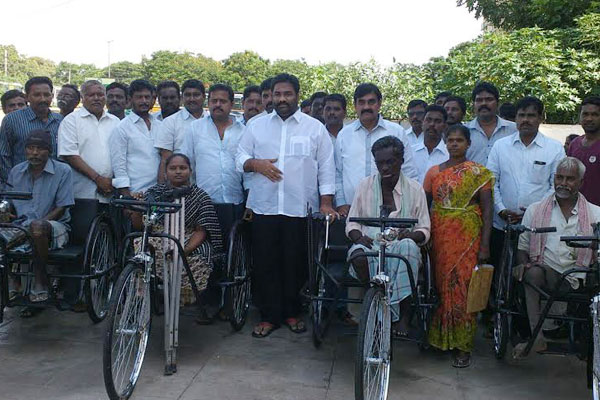 Kotamreddy Sridhar Reddy, YSRCP MLA from Nellore Rural constituency, is a typical grass-root MLA, who loves to be seen always among the people of his constituency rather staying in the cool comforts of Hyderabad.
During Assembly session, Sridhar makes his presence felt strongly by actively participating in debates, and stoutly defending his boss. Once the Assembly is adjourned, within minutes he hops into his car to gets back to his constituency. Not a single day passes without Reddy attending one developmental program or the other, somewhere in the sprawling constituency. Reddy, a first time MLA, loves to nurse his constituency like typical political leader, whose tribe is on the verge of extinction. Soft personality with loud voice, Sridhar, is a fine politician in the making, and he is known for his honest credentials.
On Monday morning Sridhar participated in simple tri-cycle distribution program to physically challenged people of in the constituency, without making big fuss. While delivering the tricycles to 105 individuals he said this was a beginning, the program continues as many more are in the need. He purchased these tricyles with his money and with a portion being contributed by KLSR Trust and ZP Chairman Bommireddy Raghavendra Reddy.
He assured the physically challenged people assembled there that he would strive to get suitable houses constructed for them.