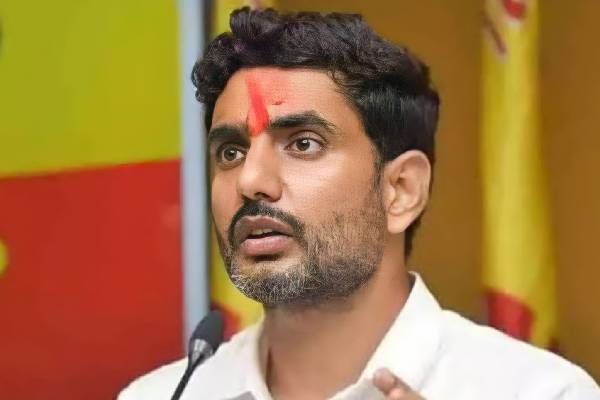 TDP general secretary, Nara Lokesh, on Sunday strongly condemned the attack on party official spokesman, Anam Venkata Ramana Reddy, earlier in the day.
Shocked on learning about the attack on Anam Venkata Ramana Reddy, the TDP national general secretary even while on his Yuva Galam pada yatra reacted suspecting that the attack is certainly by the YSRCP goondas.
"Why the State Government is feeling guilty if its corrupt practices and atrocities are questioned," Lokesh asked.
The TDP will certainly teach a fitting lesson very soon to those who resorted to the assault on Anam making the party as the target, Lokesh stated.
"Venkata Ramana Reddy is freely and strongly airing the TDP voice and thus the ruling party leaders are getting unnerved, he stated.
During his pada yatra, Lokesh had an interaction with Balija community representatives at Bhumayyagaripalli campsite of Mydukur Assembluy segment. Observing that the TDP strived hard for the uplift of the Balija community in Rayalaseema, Lokesh said that after the YSRCP came to power the community is being suppressed.
Stating that the TDP, after coming back to power, will bring back all the welfare schemes for Backward Classes (BCs) which will be implemented to Balija community too, Lokesh felt that poverty has no religion, caste and region.
Making a promise to the community that proper importance will be given for Balijas in the coming elections, the TDP national general secretary asked the community representatives to see to it that they get elected in the polls.
When the SC community representatives submitted a memorandum to Lokesh at Buddayyapalli complaining that reservations are not being implemented to them in promotions in various government wings, the TDP national general secretary assured them that immediately after the TDP forms the next government all the welfare schemes which were in force earlier will be brought back.
Lokesh called upon the SC community representatives to extend their cooperation to make Chandrababu Naidu as the chief minister again, who always works for the uplift of the community.
The YSRCP is resorting to various kinds of atrocities on the SCs and all these will be checked once the TDP is back in power, Lokesh added.