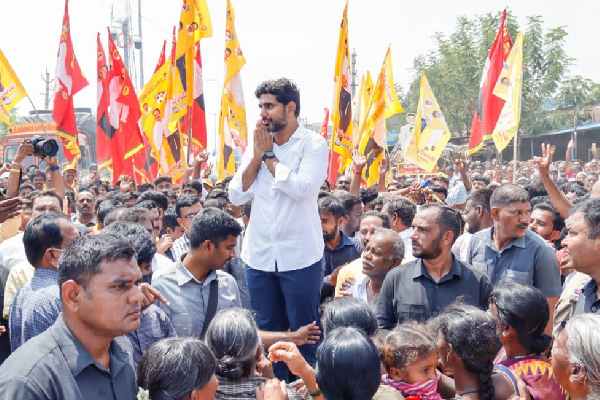 Stating that the Jagan Mohan Reddy Government is harassing the private educational institutions, TDP general secretary, Nara Lokesh, said here on Sunday that he is aware of the problems being faced by these institutions and promised to cleanse the whole higher education system soon after the TDP is back into power.
Representatives of the private education institutions managements met Lokesh at Ramayyapeta campsite and submitted a memorandum to him on the problems they are facing.
They specifically mentioned that since the education system in the State is completely in doldrums, students are seeking admission through online in other States and this is pushing them into trouble.
Responding to the managements representatives' issues, Lokesh said that he has already mentioned several issues in the face-to-face programmes with students at various places and assured them that once the TDP is back in power all their problems will be resolved on a war footing basis.
"The TDP will certainly ensure that quality education is accessible to everyone, including those living in the remotest corners of the State," he added.
Promising to do away with all those schemes that are aimed at cheating the students and their parents, Lokesh assured them that the fee reimbursement scheme will be revived.
Lokesh expressed concern that the Jagan Mohan Reddy Government is not only harassing the managements of all the educational institutions but also the students and their parents.
Before Lokesh to begin his pada yatra, Yuva Galam, on Sunday, women from various parts of Puttaparthi Assembly segment submitted a memorandum on the insecurity they are facing in the YSRCP rule. Observing that it is the TDP that provided equal rights to women in ancestral property and the whole credit goes to the late NT Rama Rao, the founder of the party.
Former chief minister and party supremo, Chandrababu Naidu, takes the credit of appointing a woman as the Speaker of the Assembly and formation of the State Mahila Commission while it is the TDP that established Padmavathi Women University, Lokesh pointed out.
Observing that the TDP always worked for the welfare of women, he said that once the party forms the government action will be initiated against those who resorted to various kinds of atrocities against women.
At Pagadalavaripalli, Lokesh had an interaction with the BC representatives and promised to enact a legislation for their safety within 100 days of the party back in power. Pointing out that the TDP has already passed a resolution to include Boyas and Valmikis into STs, he said that the party will take all measures for their welfare.