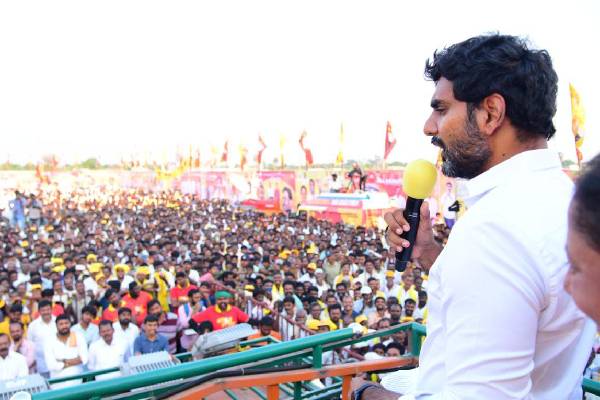 TDP general secretary and former minister Nara Lokesh on Tuesday said that the TDP would create Islamic Bank for the welfare of the Muslims. Addressing a meeting at Jammalamadugu as part of his padayatra, Lokesh criticised chief minister Y S Jagan Mohan Reddy, for neglecting the welfare of the Muslim minorities. He said that the TDP government after the 2024 elections would restore all welfare schemes for every section.
He alleged that the Jagan government also withdrew 27 welfare schemes for the SCs and cancelled all welfare schemes for the BCs. He said that the TDP regime would bring new legislation to protect the BCs from atrocities and crime against them. He also blamed Jagan for withdrawing reservations for the BCs and said that the TDP government would reintroduce the reservations.
He criticised Jagan for claiming himself as the poor man and wondered how a person having Rs 1 lakh crore worth properties is called poor. Lokesh alleged that Jagan had destroyed the state and neglected every section. Jagan and his men have benefited in the last four years, while the state and the people have lost heavily, he said.
Lokesh called upon the people to defeat Jagan in the next elections and bring the TDP back to power. He said former chief minister and TDP supremo N Chandrababu Naidu is a visionary leader and a state like Andhra Pradesh should have a visionary as the chief minister.
The TDP government had created huge properties for the state after the bifurcation, Lokesh said and alleged that Jagan had destroyed it all. He reiterated that the TDP government would restore the development and provide employment to every youth in the state.