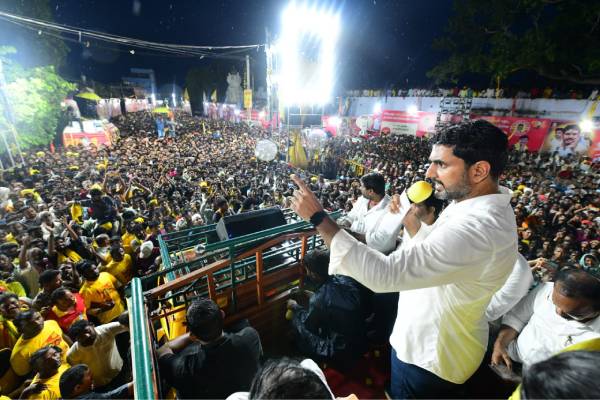 TDP general secretary, Nara Lokesh, on Wednesday promised to transform the combined Prakasam district as a pharma hub once the TDP forms the coming government in 2024.
It is a sea of humanity in Ongole as the people from the district gathered here as they have come to know that their young leader is addressing a public meeting at the district headquarters town during the Yuva Galam pada yatra. As Lokesh entered Ongole, the public gathered in large numbers on either side of the road to have a glimpse of their leader.
When the TDP general secretary began addressing a huge gathering, there was a large-scale response from the crowd as all of them began raising slogans like "TDP zindabad, Chandrababu zindabad and Lokesh zindabad'. Lokesh started his address by greeting the massive gathering and recalling the history of Ongole.
Observing that it was Chandrababu Naidu as the chief minister of the State revised the monthly pension from Rs 200 to Rs 2,000, Lokesh said that the TDP is the care of address for welfare while the YSRCP is known for looting. Who waived the farm loans and who has allocated free houses to the poor, the TDP general secretary asked the public and said that it is the TDP that always thinks about the common man while Chief Minister, Jagan Mohan Reddy, has no right to talk about the poor.
Lokesh asked as to why the Chief Minister, who is now promising to build houses for the poor in Amaravathi in the next six months, did not take up such an initiative in the past four years and three months in the State. Only TDP supremo, Naidu, has affection towards the poor but not Jagan, he remarked.
Reaffirming that the TDP will implement all the schemes announced in the name of 'Bhavishaythuku Guarantee', Lokesh said that job notification will be issued every year. All the pending projects will also be completed, he said and sought the blessings of the people of Prakasam.