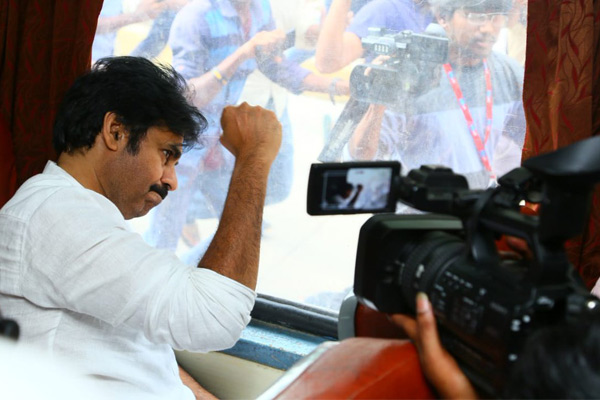 Yesterday Pawan Kalyan boarded Janmabhoomi Express at Vijayawada station and travelled till Tuni and took up a novel outreach programme i.e. public interaction during train journey. While many people worried if it will cause inconvenience to the public but Janasainiks were very disciplined and the public interaction in train journey was a huge success.Pawan interacted with Railway coolies, porters, students, farmers, retail shop owners in railway stations.
Let's see how was media coverage for this event:
Eenadu:
Eenadu covered the news in its front page but gave full news in page 8. The article covers most of the points Pawan spoke and gave heading with Pawan statement that how TDP can ally with the party that beaten its MPs in parliament. Eenadu covered pointers from Pawan's speech as well as his interaction with TC in train and his public interaction
Sakshi:
It is not surprising to see Sakshi not covering the news in first page. It covered the news in it's 12th page as a small news article. And within that too it had separate box item highlighting Pawan's comments condemning the attack on Jagan. Most of the article focused on Pawan's criticism on CBN and his response on Jagan's attack. As usual Sakshi's first page focused on criticizing TDP-Congress alliance and Jagan's padayatra schedule.
Andhra Prabha
Andhra Prabha, whose owner is a leader in Janasena, gave full fledged coverage to the event. It published two separate articles in its front page. It also covered Chanda Babu's statements in Pakasham district in it's front page. Even it's 2nd and 3rd page dedicated to Janasena chief's innovative program and public response for that.
Andhra Jyothy:
Andhra Jyothy too covered the news in front page and full article in its 2nd page. But unlike Eenadu that gave heading from Pawan's criticism on CBN (Mee MP lani kottina Congress tho jatha kadataaraa) , Andhra Jyothy gave heading that Janasena chief prefers to contest elections alone without alliances.
Others
Vaartha paper, Surya paper, Praja Shakti paper also covered the news in its front page.
Overall:
Out of all the major dailies, it is ONLY Sakshi that avoided giving news in its front page. That raised doubts among people whether Jagan age scared of Pawan Kalyan walking away with anti incumbency votes in 2019. As Pawan Kalyan responded on the attack on Jagan yesterday too, at least Sakshi could have given the news in front page with Pawan Kalyan comments condemning this attack. but Sakshi seemed to have preferred to avoid anything related to Pawan Kalyan on its front page. Overall, the best coverage for the incident is given by Andhra Prabha paper and very insignificant coverage is given by Sakshi paper.
Telugu360 is always open for the best and bright journalists. If you are interested in full-time or freelance, email us at
Krishna@telugu360.com