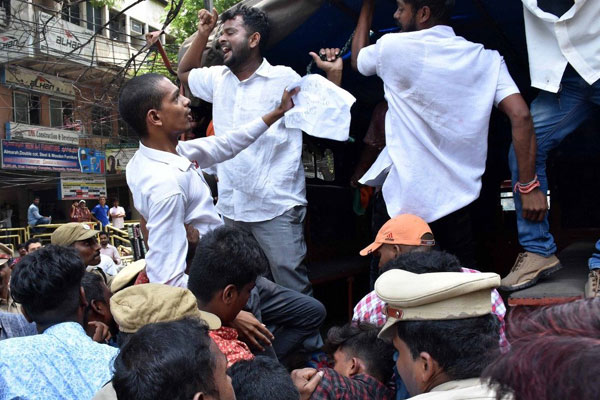 Telangana Intermediate board is in news recently for the alleged lousy job it has done in conducting intermediate exams in Telangana state. Despite wide rage from students and parents, Telugu media downplayed the incident and that has become a topic of debate. There was even debate among people that, had this incident happened in AP, Telugu TV channels would have widely publicized this and made AP government responsible for this.
Allegations on Board of Intermediate, Telangana:
Students along with their parents protested in front of the intermediate board in Nampally after the published results did not match with the performance of the candidates in the exams. Students and parents alleged that the papers might have been evaluated by the unskilled people and they sought an explanation from the board. In some cases, students were marked absent for exam despite attending the exam. In another incident, a student, who was topper in 11th standard, failed in 12th standard (got zero marks) and the student blamed it on either incorrect evaluation or mismanagement of the board. Students and parents demanded the state education minister to look into the issue. Board response on students' allegations looked callous as the officers simply asked students to re-appear the exams in supplementary exams. There is also spike in student-suicides this time. Rajya sabha MP, CM Ramesh's nephew also one among the students committed suicide.
Telugu media underplaying the issue surprising many:
Despite this wide rage from students and teachers, many TV channels underplayed the issue. When some student suicide in Tamil Nadu because of NEET exam, these same channels ran multiple stories and blamed center and BJP for the suicide. When something happens to Telugu students in US (for e.g Visa issues), these same channels covered the stories through out the day and gave impression to people that, it is because of Trump, Telugu students are suffering. But when similar thing happens in Telangana, and the lives of Telangana students are at risk, the same channels turn blind eye and this is surprising many now. People are wondering, are these channels scared of facing wrath from KCR and TRS if they highlight this issue.
Had it happened in AP, the response would have been different:
There is discussion among media circles that, if the issue happened with AP students, situations would have been different. Some media channels would have definitely highlighted the issue but in case of Telangana, no channel is daring to give even mildest criticism on any of the organization or board in Telangana. There was news that event the journalists who covered the news of EVMs being transported (later they turned out to be mock EVMs of course) also facing lot of issues from the Telangana government or government officers. Had it been AP government, many people also would have raised the voices, but now they are all silent because any such statement now may irk KCR.
Overall:
Overall, it looks like Telugu media again proved their cowardice and biasedness in covering the issues that impact Telugu people. Especially, Telugu media seem to be scared of passing even slightest critical remarks on KCR's government even when Telugu students are killing themselves because of the injustice meted out to them by board of intermediate.
Telugu360 is always open for the best and bright journalists. If you are interested in full-time or freelance, email us at
Krishna@telugu360.com