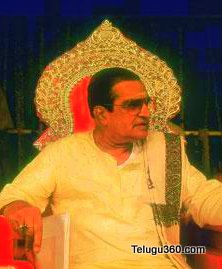 Nandamuri Taraka Rama Rao, also known as NTR, is a legendary figure in Andhra Pradesh politics and also a veteran Telugu actor. NTR was born on May 28, 1923 in Nimmakuru village, Krishna district. Right from his childhood, NT Rama Rao developed a fascination towards acting . It was the same passion that paved way to his shift of base from Nimmakuru to Madras city, the then hub of South Indian cinema, in search of film roles.
NTR's first cameo appearance was in the movie Mana Desam (1949). He later essayed protagonist role in Palletoori Pilla, directed by India's iconic director Adurthi  SubbaRao. NTR's commendable acting fetched him a key role in Patala Bhairavi (1951), which was screened at first India's International Film Festival. Later, he appeared in Maya Bazaar (1957) mythological movie. His first mythological role as Lord Krishna opened new annals in the Telugu cinema. Soon, he went on to appear in many mythological films. Even today, there's a saying amongst film circles that none would come on par with NTR in terms of mythological appearance and performance.
N.T Rama Rao plunged into direction with Daana Veera Shura Karna (1977) wherein he essayed four roles and amused everyone. The movie not only won critical appreciation but kept NTR at zenith. In the same year, he appeared in a commercial flick Advai Ramudu through which he successfully grabbed the pulse of the mass audience and expanded his fan base. He went on to appear in many commercial movies in later part of his career. In total, he acted in 274 movies in Telugu,  three in Hindi and 15 in Tamil. He produced many films and even tried his hands at screenwriting.
Political entry:
NTR's entry into politics was historical. Making sacthing attack against the Congress, that ruled Andhra Pradesh, for five consecutive terms, alleging the party mortagaged the interests of Telugu people in Delhi, NTR launched Telugu Desam Party on March 29, 1982 in Hyderabad.  He raised a slogan 'Telugu Vari Aatma Gouravam' and went into the public. He was the first politician in India to take up rathayatras. He, along with his son Hari Krishna, traveled length and breadth of the state in 'Chaitanya Ratham.'
NTR's powerful dialect and his advocacy fetched him to adorn chief minister's throne in 1983. In a landslide victory, TDP swept 199 seats out of 294 and gained absolute majority. He became the first non-Congressman to become Andhra Pradesh's chief minister. On 9 January 1983, he sworn in as the CM. However, the then Governor Ramlal nullified NTR as the chief minister and made Nadendla Bhaskar Rao the CM of the state in August, 1984 citing the majority. The action was soon reversed and NTR was remade chief minister in September, 1984.
The next month, the country witnessed the assasination of the then prime minister Indira Gandhi. NTR dissolved the assembly over Nadendla's episode. Although Congress was successful in banking votes on sympathy post Indira Gandhi's assasination, it showed no impact in Andhra Pradesh. TDP won with absolute majority and became the first ever regional party that took the opposition seat in the Lok Sabha.
In 1989 elections, Congress defeated TDP. However, in 1994 Telugu Desam Party came back to power. It was for the last time that the state saw NT Rama Rao as chief minister. Unfortunately, his term lasted just for nine months as his son-in-law executed a coup against NTR and took over the office of the chief minister. NTR criticised Chandrababu Naidu vehemently and accused him of power greedy. He even compared Babu to Aurangazeb. The legendary politician passed away in 18 January 1996.
Andhra Pradesh witnessed rapid development during NTR's regime. He banned alchol in the state and distributed ration rice at just two rupees per kilogram. It is no exaggeration to state that Telugu language gained prominence during his term. Even today, TDP banks upon the developmental programmes of NTR and uses his slogan 'Telugu Vari Aatma Gouravam.'