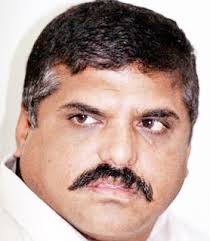 YSR Congress has demanded the TDP to place its apprehensions on Section 8 of State Reorganisation Act 2014 before President Pranab Mukherjee and seek clarification.
The party also advised Andhra Pradesh chief minister Chandrababu Naidu to get his reservations about governor ESL Narasimhan clarified from the president as he is the appointing authority of the governor.
"Chandrababu Naidu and his cabinet colleagues have been raising a hue and cry over the implementation of Section 8, more so after the cash-for-vote scam has come to light. The chief minister should make best use of the time as the Implementing authority (the governor) and his appointing authority (the president) are in city," party senior leader Botsa Satyanarayana said.
Stating that the TDP had revived the controversy over Section 8 after its MLA was caught by ACB while trying to bribe a fellow MLA, Botsa said TDP had gone on the offensive and called the Governor names.
Though Chandrababu Naidu was allotted an additional 30 minutes time on Tuesday with the President Pranab Mukherjee, there seems to be no mention of the controversy they have raised on the implementation of the issue, he added.
Botsa demanded that Naidu broach the issue with President in the presence of the governor, extract a reply and issue statement.