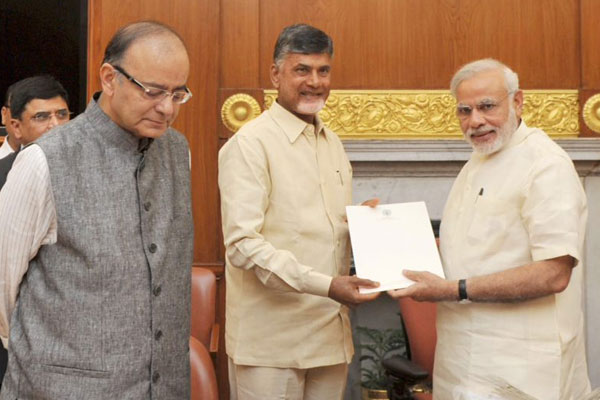 What is feared has happened in New Delhi today.
The 90 minute long-meeting summit meeting between Prime Minister Narendra Modi and chief minister N Chandrababu Naidu failed give any clarity on the according to special status to Andhra Pradesh. The centre will concentrate only on the implementation of the provision related to the Andhra Pradesh in Act.
Centre doesn't want to mislead the people of Andhra Pradesh on the special status by raising false hopes. So, before Chandrababu Naidu briefed the media, finance minister Arun Jaitley revealed what transpired in the meeting. And there is no scope for any false interpretation of center's mood with regard to special status. It's clear, there is no special status. No package either. Only those mentioned in the Act will be given to the state.
What urban development minister M Venkaiah Naidu indicated this morning came true officially by midday.
So, it is now clear that centre is in no mood to talk on the special category status. Naidu, is returning home, without any assurance on the special category status. Nor was there anything tangible emerged from the summit meeting between Narendra Modi- Chandrababu Naidu.
Finance minister Arun Jaitley also participated in the meeting.
Arun Jaitley, who briefed the media immediately after the meeting, talked nothing about the special status. He laid stress only on the implementation of part of the Andhra Pradesh Reorganization Act-2014.
Here is what Jaitley said:
"Centre will fulfill all the provisions incorporated in the Andhra Pradesh Reorganization Act.2014," Arun Jaitley said after the meeting.
Adderssing the media, flanked by Naidu, Jaitley said Centre will ask the NITI Ayog Vice Chairman Arvind Panagaria to guide the centre implementation of the provisions related to Andhra Pradesh in the Act. These provision are in the Sections 46, 94 and 90, " Jaitely said.
According to Jaitley, senior officials of finance ministry, PMO and NITI Ayog vice-chairman Panagaria were also present in the meeting.
" NITI Ayog vice chairman will be in touch with the state government officials and study all the issues in concert with the state government officials with regard to the further implementation of the provisions of the Act. Sections 46,94 90 specific to Andhra Pradesh. The PM is of the view that what ever in act with regard to the level of assistance to Andhra Pradesh has be given. Mr Panagarai will prepare a road map for the implementation of these provision," he said.
Jaitley was evasive when asked to tell on special category status. Naidu, who stood ashen, pacified the journalists assuring he would hold a separate press conference in the evening. That's all from Delhi.