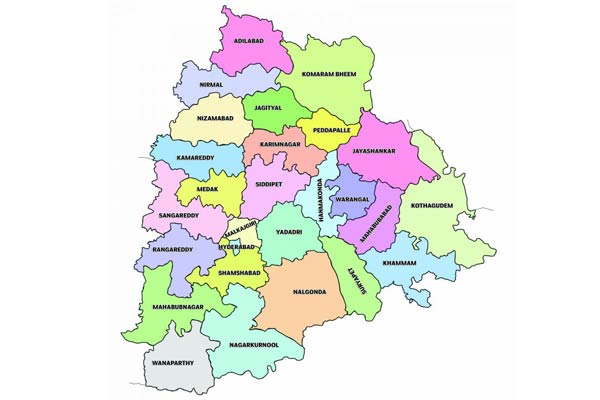 People fail to recognize good times, if the officials are offhand. Despite Telangana government allocating adequate budget for the Scheduled Castes, the corporation was futile in utilizing the funds. The government released the funds ahead of the time and the targets had to be reached by March2017. However additional three months of extension was given to ensure that the government's schemes reach to the beneficiaries.
The annual report for 2016-17 upholds the neglect of the accountable authorities. The state government for 26,731 Dalit beneficiaries in 31districts assigned 322.61 crores rupees budget in 2016-17. But the SC development corporation served only 9,455 beneficiaries and spent 111.69 crores rupees. Ten districts failed to utilize funds while only Warangal Rural utilized more than allocated units.
It may be noted that KCR has announced Dalitulaku Bhupampini, T-pride and such programmes for the development of the community. The numbers imply that 210crores rupees were not utilized and thus 17000 SC beneficiaries could not take advantage of the government schemes.
There are several reasons but primarily appointing of inexperienced officials who failed to speak to bankers and are unaware of government schemes. Prior to the realignment of districts, SC development corporation officials were responsible for the disbursing the funds. Each district had Executive Director and RDO level officers. However, after the 31districts were formed, SC development corporation and social welfare department are now under one umbrella. So, hostel ASWOs and wardens were appointed as district officials by the government. The responsible authorities had to get loans sanctioned for unemployed SC youth, which did not materialize.
Telangana government announced its prestigious policy of allotting three acres of land to poor Dalit families. In 2016-17 10,000 acres was supposed to be distributed, but only around 5000 acres was distributed. In 2017-18 10,662.12 acres has to distributed. So far only 859.19 acres has been purchased and distributed.
Here is a table listing the allocated units and funds in rupees in 2016-17 for the 31 districts
| District | Target Units - Funds in Crores | Allocated Units – Funds used in Crores |
| --- | --- | --- |
| Nalgonda | 1457 – 17.00 | 0 |
| Suryapet | 1009-11.39 | 0 |
| Mahabubnagar | 991 – 11.96 | 0 |
| Nagar Kurnool | 886 – 10.47 | 0 |
| Yadadri – Bhuvanagiri | 619 – 75.7 | 0 |
| Jogulamba Gadwal | 578 – 6.94 | 0 |
| Janagam | 576 – 7.12 | 0 |
| Mahabubabad | 498 – 6.15 | 0 |
| Wanaparthy | 440 – 5.32 | 5 – 05.60lakhs |
| Medchal | 281 – 3.58 | 0 |
| Adilabad | 476 – 5.69 | 336 – 3.81crore |
| Asifabad | 371 – 4.57 | 238 – 2.51 |
| Macherial | 904 – 10.76 | 956 – 10.97 |
| Nirmal | 492 – 6.10 | 287 – 3.90 |
| Karimnagar | 875 – 10.36 | 797 – 8.56 |
| Jagityal | 812 – 9.73 | 635 – 7.31 |
| Pedapalli | 744 – 9.05 | 658 – 7.46 |
| Rajanna Siricilla | 504 – 6.24 | 576 – 7.00 |
| Khammam | 1313 – 15.81 | 919 – 8.72 |
| Badradri | 700 – 8.46 | 102 – 10.30 |
| Medak | 624 – 7.62 | 130 – 12.90 |
| Sangareddy | 1284 – 15.11 | 744 – 8.90 |
| Siddipet | 893 – 10.54 | 862 – 11.44 |
| Nizamabad | 1018 – 11.45 | 306 – 5.82 |
| Kama Reddy | 720 – 8.50 | 164 – 3.34 |
| Ranga Reddy | 2304-27.89 | 74 – 0.75 |
| Vikarabad | 830 – 9.98 | 181 – 2.40 |
| Warangal Urban | 948 – 11.16 | 95 – 1.20 |
| Warangal Rural | 586 – 7.13 | 766 – 7.11 |
| Jayashankar | 689 – 8.12 | 390 – 4.75 |
| Hyderabad | 2309 – 30.79 | 254 – 4.62 |