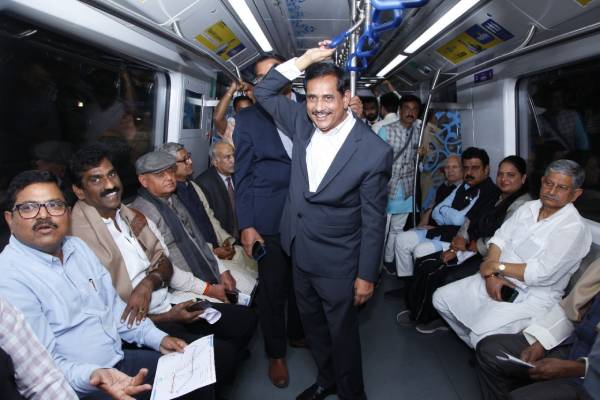 A 14-member Parliamentary Standing Committee on Housing and Urban Affairs travelled by the Hyderabad Metro Rail.
The panel led by Rajiv Ranjan Singh visited Metro Rail facilities and also travelled from Raidurg to Ameerpet stations and back on Saturday night.
The committee comprising members of Rajya Sabha and Lok Sabha has interacted with Hyderabad Metro Rail Limited (HMRL) Managing Director NVS Reddy and MD L&TMRHL, KVB Reddy and appreciated the successful operations of Hyderabad Metro for the past five years.
N.V.S. Reddy has informed the Committee members that the Hyderabad Metro Rail is the world's largest Metro Rail project in public private partnership mode and shown several facilities being extended to the commuters.
The MDs have also shown them the shopping and other convenience stores in Ameerpet station which the members appreciated as useful to the commuters and at the same time generating revenue for the Concessionaire.
Reddy has also explained the highlights of the new Airport Metro Express project being constructed with 100 per cent State government funds. He informed them that the survey and other pre-construction works are going on at a brisk pace and that the project would be grounded soon.
The other committee members who visited the metro rail facilities included R. Girirajan, Ram Chander Jangra, Kavita Patidar, Benny Behanan, Shankar Lalwani and Hasnain Masoodi.