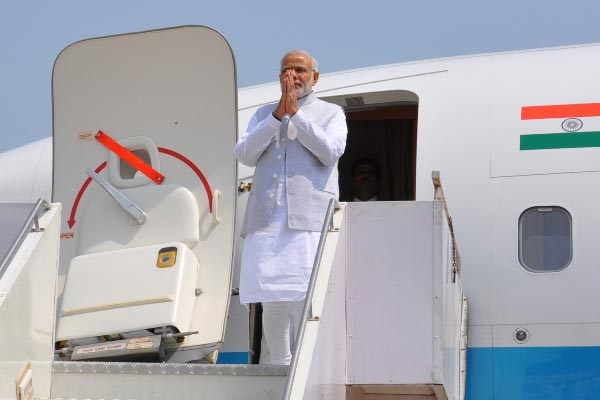 Shrewd politician as he is, Prime Minister Narendra Modi did not go beyond showering encomiums on chief minister Chandrababu Naidu and the people of Andhra Pradesh for their capacity to build world-class capital. But, he offered sentimental solace to the chief minister Naidu, who definitely expected some surprise gift from Modi, by presenting Delhi's "Putta Mannu and Yamuna neeru" to his " Mana Matti and Mana Amaravati".
There has been an expectation among the people of the state of an announcement of special package today ever since the PM announced Rs 1.25 crore package for Bihar three months back. In his 25-minute long speech at the public meeting organized at Amaravati after the foundation laying ceremony, PM Modi did not offer anything concrete to the state of Andhra Pradesh, leave alone special category status. There was no reference even to special package, which chief minister Naidu, central minister Sujana Chowdary often talked about.
The Prime Minister reassured the people of Andhra Pradesh, with the oft-repeated refrain that , "The centre is committed to honor in letter and spirit,whatever incorporated in Andhra Pradesh Reorganization Act, 2014." He repeatedly said he would ensure that all the assurances mentioned in the Act would be fulfilled. He also talked of the power of "Modi- Naidu" winning combination to tickle Naidu into complacency. "The center will stand by the state of Andhra Pradesh. Naidu and I work in tandem," he assured.
Recalling that how CM Naidu gave priority to the development of human resources, the PM said centre offered so many central institutes such petroleum university, IIT, Central university etc only to realize the Naidu vision," he said adding that AP would be become a world leader in Human resources.
The remarkable comment was that he reiterated that the bifurcation of Andhra Pradesh was done in a hurry. But he attributed the reason for the tensions among the regions in the country to the defective British governance. " The tension between Andhra and Telangana was the result of the British policy," Modi added." the thought that many people took their lives for the Telangana state still pains my heart. But, now, after the division, the two states of Telangana and Andhra should realize that they are one at soul i.e Telugu. If Telugus are united with one soul, they would play a great role in strengthening the country. " I am hopeful that Amaravati will develop into great city in India and will become a land mark for development of future cities," he said. Narrating the efforts he put into rebuilding the earthquake hit places in Kutch, the PM acknowledged that building a new city was a gigantic task and conveyed best wishes to the chief minister and people of Andhra Pradesh.
Union minister Venkaiah Naidu translated  PM's Hindu speech into Telugu for the benefit of people in the meeting.