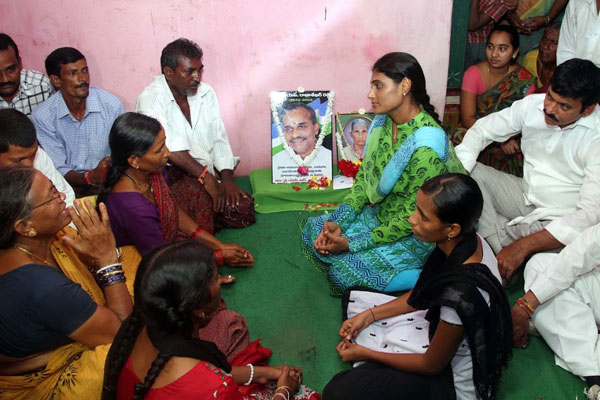 Sharmila, daughteer of YS Rajasekhar Reddy, though feeble voiced, is known for her tenacity. She has been carrying forward her Paramarsha Yatra in Telangana for the past few months. The yatra, is meant to meet the families of those persons who purportedly died of shock in the wake of YSR sudden death in copter crash in 2009. She has been on the mission of meeting these families and extend some help. On and off the yatra has been going on for years in AP and Telangana. Normally, such activities taper once the party loses the election for these activities are meant to connect with the voters basically. This did not happen in the case of Sharmila. Even though YSR party lost miserably in Telangana in 2014, she has not called off the yatra. Sharmila had earlier, toured Mahbubnagar, Nalgonda, Ranga Reddy and Warangal districts. Now, after completing the Yatra in Warangal she entered Karimnagar district. One could see no fatigue on her face nor disillusion noticeable in her eyes.
After a break now, she will resume the Yatra from October 1 from Husnabad constituency for the next two days, travelling 450 km, and consoling 18 families, according to Telangana party General Secretary K Shiv Kumar. On October 3 evening, the Yatra will enter Adilabad district at Nirmal, and she will travel 110 km consoling 10 families, which lost a member upon watching the news the demise of YSR, during the next two days. From Kagaznagar, Sharmila will cross over to Nizamabad district and will visit 19 families on October 5 and 6 before rounding off the Yatra.
There are no elections near future and the party is unlikely to emerge a force in the new state. The smooth sail of her yatra in Telangana is attributed to the fact "the enemy of my enemy is my friend". Jaganmohan Reddy, president of YSR Congress, is an arch rival to TDP supremo Chandrababu Naidu, who is seen as enemy number one by TRS, the ruling of party of Telangana. So, Jagan, who had been hounded out of Telangana few years back, is no longer an enemy to TRS or Telangana forces. There are even complaints from TDP that Jagan and TRS leader KCR are working in tandem to finish Naidu in cash for vote scam. They show Jangan's aggressive campaign , more aggressive than TRS, for booking Naidu as accused number 1 in the case. While TRS had been silent, Jagan went to New Delhi submitted memoranda to centre.
Then what could be reason behind this strenuous campaign in Telangana in the name of Paramarsha Yatra by Sharmila. It is naiveté to conclude that it is just a humanitarian yatra to help the bereaved families. There must be some political meaning to it.
Observers see two reasons in Sharmila's Yatra in Telangana.
1. She is helping the ruling party to destroy the Telugu Desam in Telangana by preventing people of Andhra origin from moving over to TDP, in the absence of YSRC, and Andhra Party. She seeks to achieve this by sending across a message that the YSRC is not out, it is alive and kicking.
2. Sharmila wants to keep memories of YSR alive and this would be useful to generate wave of protest in case Jagan is arrested in "disproportionate cases", now on fast-track trial in CBI court. Jagan's constant refrain is that the these cases have been booked at the instance of Congress and TDP. Let us wait and see what course the Paramarsha politics take in future.