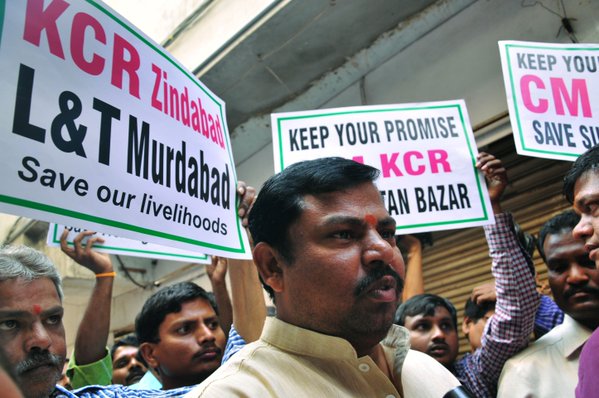 Business community of famed Sultan Bazar market observed bandh on Friday to protest against the decision of the Telangana government to stick to the original alignment of Hyderabad Metro Rail, ignoring the protests. Raising slogans against the Metro decision the traders staged sit-in in front of their closed shutters. They urged Chief Minister K. Chandrasekhar Rao not to go back on his promise to save the market.
The bandh is the fall out of L&T statement yesterday that it had got a green signal from the state government to proceed with work on some locations, including Sultan Bazar. Because of resistance from the local traders, earlier the government had asked the L&T to suspend the work pending the final decision from the government. KCR, when leading the T-movement, was dead against carrying the Metro Work through Sultan Bazar, which was once Hyderabad leading cloth market. Now, as chief minister KCR withdrew from his earlier stand. "The government had conveyed its approval to carry forward the Metro works at Sultan Bazar as per the original alignment. Talks on Metro in Old City areas are in progress," said VB Gadgil, Chief Executive and Managing Director of L&T Metro Rail, a 16,000 crore project.Sultan Bazar traders displayed placards with the slogan "KCR. Save Sultan Bazar". The protesters raised slogans against L&T Hyderabad Metro Rail officials. Police took some protesters into custody for creating problem in the busy market area. The traders expressed hope that the chief minister would not go back on his earlier promise to save the Sultan Bazar Market. Many expressed fear that they were ready to sacrifice even their lives to save the market as it had been their livelihood for ages.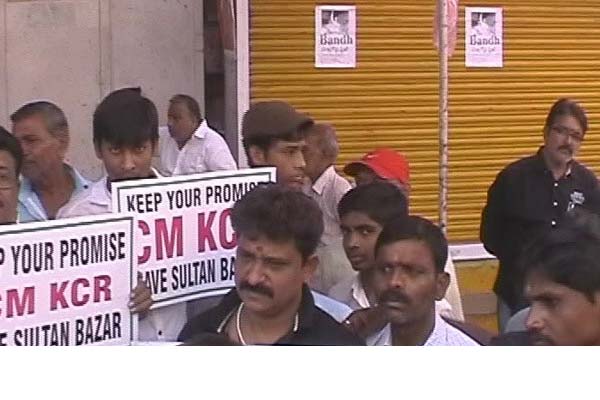 Sultan Bazar, near Koti has been commercial hub Hyderabad for ages and has been a popular textile market middle class Hyderabad. The Bazar has to be pulled down to make room for the Metro rail. Thousands of families, including hawkers, will set to lose their livelihood once Metro starts its works through the Sultan Bazar. Ealier the government had asked the concessionaire L&T to change the alignment and work out alternate routes. However, alternate routes were not found feasible.
The Hyderabad Metro with 71.16 km of elevated rail route is being taken up in public-private partnership on three corridors in the city. Though the project was originally estimated to cost Rs.14,132 crore, because of the delay and other factors the cost is reported to have escalated by about Rs.4,800 crore. As per the original plans, the metro project is scheduled to be commissioned in July 2017.