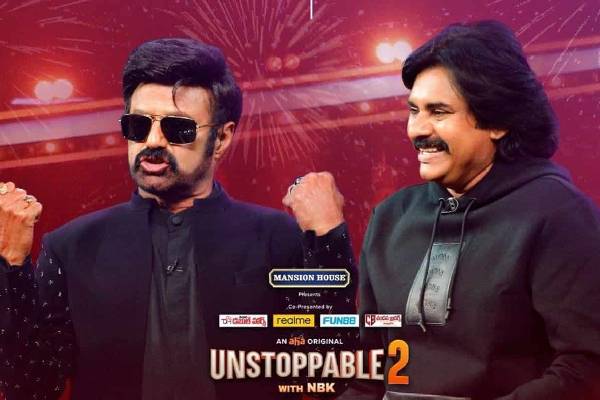 aha's "Unstoppable 2 with NBK" has again set the bar high with its latest episode featuring Power Star Pawan Kalyan. With over 100 million viewing minutes, this episode has captivated audiences and solidified the show's position as a leader in OTT entertainment.
For the first time in OTT history, the entire episode was presented to fans in an innovative and immersive experience. Nearly 200 fans attended a special event at Prasad Labs, where life-sized cutouts of Pawan Kalyan and Nandamuri Balakrishna were displayed, creating a buzz across the Telugu states and adding to the excitement of the historic moment.
The episode itself was a true testament to the power of storytelling, as Pawan Kalyan went candid like never before, sharing insights and experiences that have never been heard before. The show's ability to bring fans closer to their favourite stars has once again been demonstrated, solidifying aha's commitment to delivering unparalleled entertainment.
This latest episode proves that aha's innovative approach to OTT content is resonating with audiences and paving the way for a new era of entertainment. With its impressive viewership, "Unstoppable 2 with NBK" continues to capture the imagination of fans and solidify its position as a must-watch for anyone looking for quality entertainment.
Do not miss to watch Part 2 on February 10, only on aha!