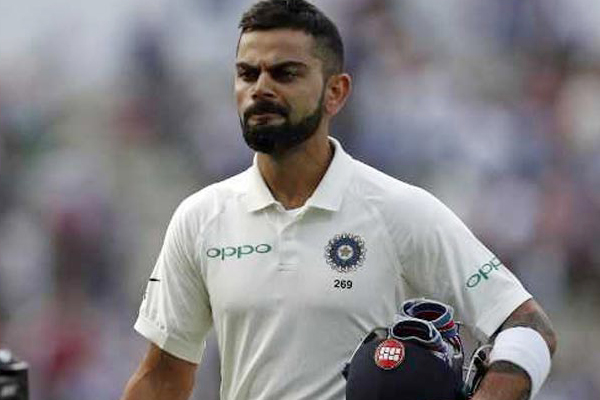 India skipper Virat Kohli today rued the lack of application and poor shot selection by his batsmen after their meek surrender paved the way for an England victory in the opening Test here.
The hosts drew first blood in the five-match series with a 31-run win at the Edgbaston.
Chasing 194, Kohli stood out again with a combative 51 but lacked support at the other end, as India were all out for 162.
"I think it was a great game. Glad to be part of such an exciting Test. Lot of times we came back, showed character there. But England were relentless. They made us work hard for the runs. It sets up the series nicely and gives us what we need to do going forward," Kohli said after the match.
The captain added, "Our shot selection could have been better. We definitely need to apply ourselves better with the bat, but England came back superbly and we need to take the positives and move forward.
The second Test begins in Lord's on August 9.
"(I) haven't had the time to speak (to the team) but it'll be about taking the positives. We can be proud of the team for starting like that in a big series."
Kohli praised the lower-order batsman for showing grit and said India need to be fearless to make a comeback in the series.
"There is a lot to learn from the lower order in the first innings, Ishant and Umesh got stuck in the middle. Ishant showed character here, Umesh hung around with Hardik again," he said.
"There is no hiding from this game; we need to be positive, relentless and whatever the feelings are would come out now in no time. We need to take the negatives out and build on the positives as we go on."
Talking about his first-innings century, Kohli said: "From the team's point of view, the century was probably up there. Second-best to Adelaide. One that I'll remember. When you take your team close, it always feels good."
England skipper Joe Root credited the bowlers for setting up the match.
"I am thrilled to bits. It has been a fantastic team performance despite the ups and downs the credit must go to the bowling unit. The easy thing to do is criticise the batters. We knew that if we stayed calm throughout, we would give ourselves the best chance to win," he said.
"We did a good job in staying calm. We made sure we didn't get ahead of ourselves and after three days of fantastic cricket from both sides it gives us a lot of confidence going into the next game.
Root heaped praise on Sam Curran, who blasted a 65-ball 63 in the second innings to help England post a target of 194.
"Sam Curran has a great amount of skill, very exciting and promising cricketer. He just didn't seem to feel any sort of pressure with the bat and we just love having him in our side, quite like two Ben Stokes in the side. He is only in his second Test and it is easy to get carried away, but a great prospect for us.