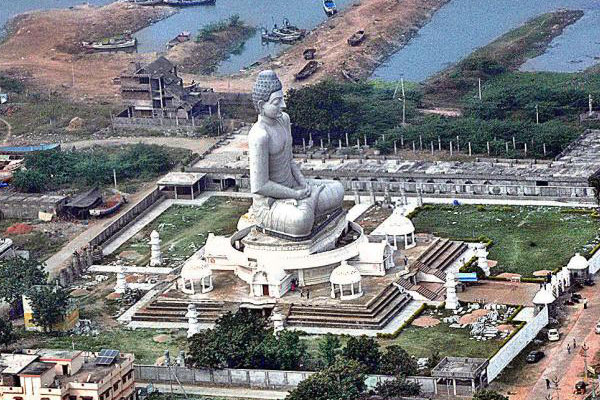 Chief minister Chandrababu Naidu is using every trick in the book to create a tsunami of Andhra pride and Andhra sentiment in support of Amaravati construction. Sentiment does work politics. His father-in- law NT Ramarao used Andhra pride to build Telugu Desam party and challenged Congress monopoly successfully in 1983. Similarly, Telangana sentiment had been cleverly transformed into a massive separate state movement which finally led to the division united Andhra Pradesh. The Andhra pride or Telugu glory had been used on many occasions in past to achieve political goals. So, Naidu this time is trying to stir up Andhra sentiment for a different purpose- to garner support for a massive construction project ie Amaravati capital.
In the past Andhra Pride had been used for pure political purposes: first for the creation of Andhra state in 1953, and then to defeat Congress in 1983. Now, Naidu needs Andhra pride on the scale of a Tsunami to get people's approval for many things. 1. Capital location has no support from Rayalaseema. 2. It is a political decision to keep the capital immune from the influence of aggressive Reddys of Rayalaseema 3. Guntur and Krishna districts, where capital zone falls, form the core Andhra area, and basically Kamma Nadu, safe zone for Telugu Desam party, which is generally perceived as party of Kammas. 4. There has been wide-spread opposition from small and marginal farmers across the state for taking over of their lands, though non-irrigated in some cases, for the proposed 5 lakh acre land bank creation 5. growing resentment among the students and youth against the Naidu's policy of not filling the vacancies in government. ( Naidu's idea is to cut government expenditure on jobs. He has extended retirement age from 58 to 60 years, which takes care of families. And for youth- wait for a couple of years. Hundreds of companies are setting shop in Andhra and you would get the job of your choice, is his message.)
To bury all these negative factors Naidu needs an extraordinary force – the force is Andhra pride and Andhra glory. All festivals like Sankranti have become occasions to celebrate glorious Andhra culture. Even rules had been relaxed to gamble on cock fights, famous in some Andhra districts. Godavari Pushkaralu had been celebrated with the theme of Andhra and building of capital along with rebuilding of Andhra was the message. The massive crowd at Pushkaralu instilled enormous confidence in Naidu that he could get similar support to Amaravati as well. State government is making Kuchipudi, an Andhra dance form, is part of syllabus.
The height of the Andhra charm offensive will be seen in the run up to construction of Amaravti capital. Naidu wants all Andhras, wherever they are, to donate at least a brick or money worth of a brick. This is to create a sense of belonging among Andhras. He is adopting crowd funding in order to make every Andhra become partner of the capital city. An innovative technique 'digital brick' is also being planned for non-resident Andhras in which the donor can affix his signature on the digital brick. He is planning a memorial wall on which the names of all farmers, who offered land under land pooling to the capital, will be engraved on the lines of Indai Gate, New Delhi, which displays the names of soldiers, who died in wars fought by colonial Britain. To praise their sacrifice a program called Rytu Vandanam is being planned on the day of foundation laying on October. In order to present that new capital embodies the spirit of every Andhra village, the government has made arrangements to bring soil from 16000 villages and habitations in Andhra kaslasam. This soil will be mixed with the soil of Amaravati at the point of foundation. The mixing of the soil and the place will be consecrated as the confluence all rivers. Recently the diversion of Godavari water into Krishna basin has been celebrated at Pattiseema as the linking to two mighty Andhra rivers.
The capital has already been given a moniker "people's capital" notwithstanding the criticism that it was a big real-estate venture by "Naidu & Son Co" by opposition parties. Naidu's plan is to attract Rs 4 lakh crore for construction of capital along with associated townships and industrial hubs. As the centre is not coming forward to help capital beyond core capital which constitute administrative blocks like Secretariat, Assembly complex, High Court, CMO and Raj Bhavan etc, the only option left is involving the Singapore companies, which are demanding huge land about 5000 ac. in capital region in lieu of the cost of construction of the core capital. The proposal has attracted flak from the people and opposition parties. And, now, Naidu needs a wave of Andhra Pride to push through such business deals. Is it possible to create a, Andhra pride for a project which is going to benefit only a section people: realtors, contractors and leaders?