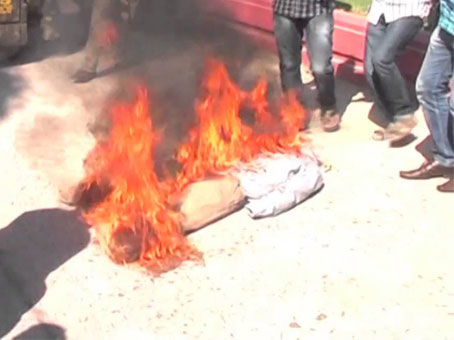 Hundreds of youth led by All India Youth Federation (AIYF) burnt the effigy of Chief Minister K Chandrasekhar Rao at Babu Jagjeevan Ram's statue, opposite Nizam College, today demanding filling up all vacancies in the government departments.
Telanana youth are a worried lot. Because, the state government is tardy in issuing notifications for the recruitment. KCR promised a job for each family in the separate state. But, with projects like Kakatiya Mission and Water Grid project cornering more funds, the state wants to delay the promised recruitment. The idea behind this is that once the proposed private investments pour in, there would be bumper crop of jobs for youth. So the government's delay is planned. Only the jobs that are essential such as engineers and police constables are being filled up to pacify the youth.
Against this background on Tuesday, AIYF organized the KCR-effigy burning program.
AIYF State general secretary B Anjaneyulu said KCR, who had assured one job to every household, has miserably failed to release job notifications even though the State government completed 18 months. It was not proper on the part of KCR to initiate steps to fill only police jobs, he said.
"There are about 2000 vacant posts in Group-I category and 6000 posts in Group-II category, 12,000 posts in Group-IV and 10,961 teacher posts in schools across the state. Government should issue notification to fill all these vacancies.," he said. Anjaneyulu said youth of Telangana, who fought without caring for their education were a disillusioned lot.
" About 20 lakh students have completed their education and waiting for employment opportunities. Hoping that Telangana state would start recruitment, they have spent thousands of rupees for coaching and have been staying in Hyderabad at exorbitant living expenditure. Their families also spending anxious moments about the future of their children," he said.
He warned that AIYF will launch a movement with unemployed youth if the government failed to fill vacant posts immediately across the state.