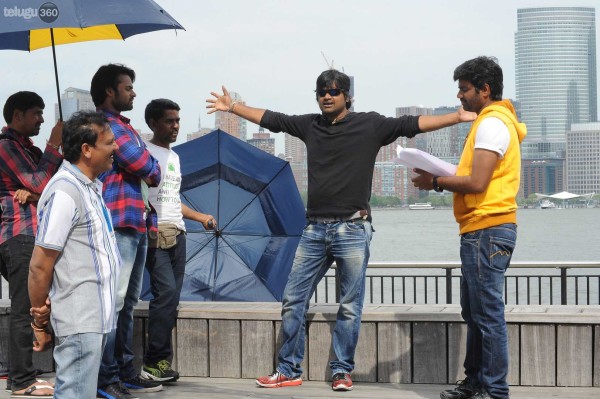 Harish Shankar, director of Subramanyam for Sale, talks to Telugu360 about the film and lead actor.
For director Harish Shankar's career to sail through, Subramanyam for Sale's success is immensely needed. His career has all been about comebacks, the way he bounced back with Mirapakay and Gabbar Singh after Shock and now feeling confident of his next, after the debacle of Ramayya Vastavayya. He's realised the technicalities of filmmaking better now, regarding the visuals, sounds and how to pull across audiences to the theatres. He wants to play safe this time around with a family entertainer, toning down violence. In his lead actor Sai Dharam Tej, he's visualised a Chiranjeevi and as he speaks more in an exclusive conversation with Telugu360.com, he reveals his wish to direct the Mega Star sometime in his career too. More of that below…
On Sai Dharam Tej: In the past few years I have seen umpteen hoardings advertising everything from products to services for instance, if you meet with an accident please call so and so number. Some online sales are hilarious, but the fact is whatever looks good, people put it up for online sale. The hero in our film has no one and keeps selling himself in the market and what all benefits he gets and how he's entangled in the process becomes the story. He does have a family but it is more or less like not having one at all. I had this concept in mind for a long time but when I saw Dharam Tej in Pawan Kalyan's place, I immediately felt I found my Subramanyam. Everyone says he looks like Chiranjeevi garu and that is the whole point of doing a film with him as I don't know whether I will direct Chiru or not.
On audience enjoying quality cinema: After Gabbar Singh released, the antakshari episode was on Youtube the third day. Despite that, the collections did not reduce. People wanted to enjoy the entire episode in the theatre and get a cricket stadium like feel. They did not want to keep headphones and laugh alone. They don't want to always see huge waterfalls in Baahubali on Youtube or a smart phone. They don't mind spending extra money for the viewing experience. People are realising what is DTS quality, sound, picture and are upgrading their knowledge on film making. All this has raised our bars on being responsible towards film making. That is why we shot at Grand Canyon and wanted to give that beautiful viewing experience.
On directing for the audience: I write like a writer, direct like a director, edit like an editor and see film like an audience, we shouldn't be seeing the film like a technician. After coming into the industry and being surrounded by film people, you get distanced from common audience. Writing and directing a film with original audience in mind is the greatest achievement. People appreciated Shankara Bharanam, Missamma and had things to pinpoint, say the costumes in Missamma. In one scene, SVR wore the dhoti in Telugu style which was picturised for the Tamil audience. The audience are always intelligent than the director.
Are live updates killing films? We are living in a democratic country. I shouldn't be commenting on the press. People should critique the subject and not the person. They keep writing Harish is spotted with a girl at a pub, drinking and he is arrogant. If the audience are smart, they know whom to follow and whom to believe.
As far as this film is concerned, I am thrilled with the outcome, especially Mickey J Meyer's background score. He delivered soothing music and I never felt anything lacking. I am sure I won't be disappointing this time.