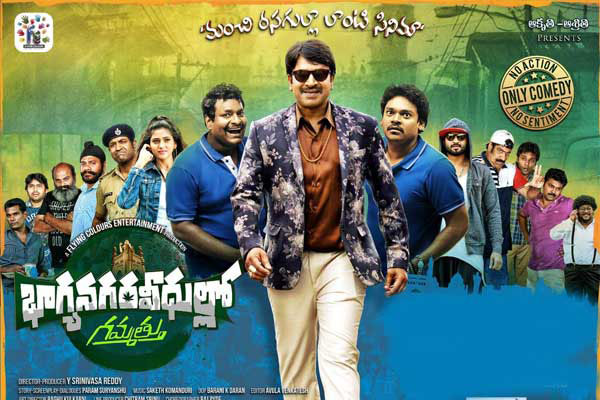 Bhagyanagara Veedhullo Gammathu Review
Telugu360 Rating 1.5/5
Many comedians have tried their luck in movie direction in the past. Srinivasa Reddy has turned director with 'Bhagyanagara Veedhullo Gammathu' with a script provided by another writer. The film is here.
Story :
Srinivas Reddy (Srinivasa Reddy) is a short filmmaker. He loses money in his previous attempts and decides to make a short film that would click. He and his friends smoke a cigarette that is rolled with drugs. In that intoxication, they do certain things that lead to a series of problems. On a parallel note, police are on the lookout for the drugs racket.
Analysis :
Barring Brahmanandam, almost all the existing comedians in Tollywood are featured in 'Bhagyanagara Veedhullo Gammathu'. Just by bringing all the comedians in one film would guarantee laughs? That is the glaring mistake Srinivas Reddy had committed. It seems, he has given each of the comedian freedom to do whatever they like with no proper scene paper. They have come up with jokes that appeared on social media, media and YouTube channels. So, it is repetitive of what has already seen.
The writing is poor; the narration is clumsy. Altogether, 'Bhagyanagara Veedhullo Gammathu' turns out to be wasted effort.
Srinivasa Reddy as the film's lead hero is seen exhibiting stock expressions. Other comedians have done better work than him. Satya and Shakalaka Shankar as his friends have brought some laughs with their antics especially Shakalaka steals the show in 'Batuku Edla Bandi' episode. Rajesh as a beggar is okay. Vennela Kishore has played a serious cop role that falls flat. Chitram Sreenu is okay. In the film, they keep on praising Dolly Shah's beauty but she is hardly gorgeous.
Technical standards are zero. It looks like the film was shot on mobile on random streets. Like the movie's title, the story mostly happens on the roads.
Positives :
Batuku Bandi episode
Some comedy scenes
Negatives :
Bad direction
Boring narration
Disjointed scenes
Redundant jokes
Verdict :
'Bhagyanagara Veedhulo Gammathu' is a futile exercise by Srinivasa Reddy. His maiden directorial is a bore and the making standards are utterly cheap.
Telugu360 Rating 1.5/5