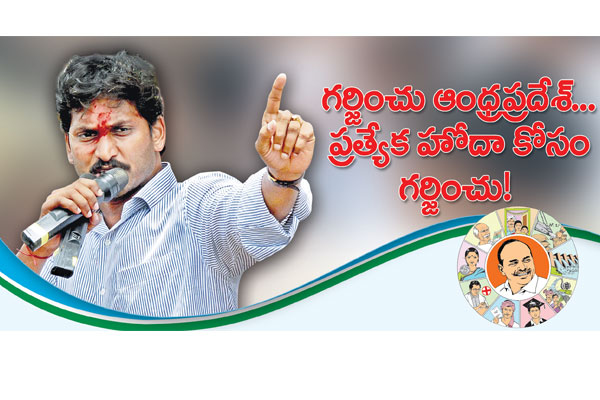 Opposition leader and YSRC president YS Jagan Mohan Reddy seems to be dreaming of a mass movement across the state fueled by the bigger participation of students from Itchapuram to Tada to Madakasira to achieve special category status. If one observes closely the speech he delivered at a student convention "Yuva Bheri" in Tirupati on Tuesday, one can easily figure out his objective: a Telangana like movement for Special Category Status, from every university.
Painting a bleak future for the students of Andhra Pradesh he said that no special status means no jobs and no life. He said students need special category status more than the state government. He circulated a pamphlet written about the special category status and called upon them to fight for the SCS by chanting "special status is our right".  " We lost Hyderabad where entire software industry, where more jobs available, was situated. Similarly, we lost along with Hyderabad the manufacturing sector, which provides 70 pc of total jobs," he said.
The incentives, Jagan said, that one state gets under special category status would pave the way for rapid industrialization and employment creation. " Before elections on every wall Chandrababu Naidu got written a slogan, " Jobs come if Babu comes". He also promised Rs 2000 PM unemployment allowance. "Babu has come, but where are the jobs and the promised unemployment allowance?" he asked. Stating that special status alone was the solution to the employment problem, Jagan accused that Naidu was behaving like a dog in manger. "He is not ready to put pressure for special status, nor will he allow us to fight for it. He has banned us from holding this meeting in SV University and discuss the issue, " he said. He dwelled at length how special status would bring jobs citing the examples of Himachal and Uttarakhand.
"The special status to Uttarakhand brought 2000 industries with Rs 30,000 crore investments and a 490 pc increase in jobs. Similarly Himachal Pradesh got Rs 10,000 crore worth industries," he said asking them to raise to the occasion and fight for the special status for more jobs and jobs in companies of their choice.
Is it possible to build a Telangana like movement for special status in Andhra Pradesh with students in the lead ?Chances are bleak. Because, in a state as corrupt as Andhra Pradesh, people may not get inspired to take a plunge into political movements because they know pretty well that ultimately, only politicians but not the common man , who corner the benefits that accrue under special category status.