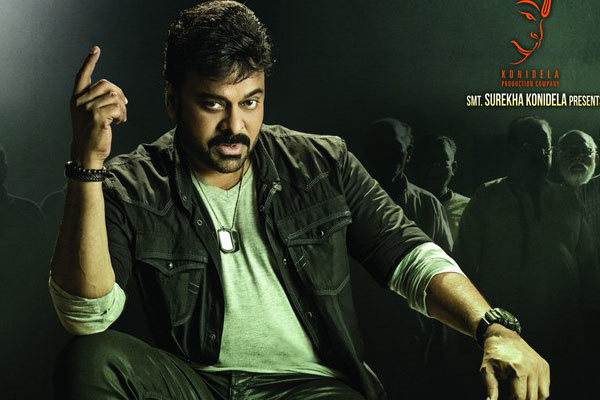 An ardent fan 'Shrekanth Devarakonda' recollects what it was like watching Megastar's prime time, how he feels about Reentry.
The most important moments in one's life are not the advertised ones, they are less prepossessing. They come to the door of memory unannounced, enter without knocking and live on forever.
But some aren't that way; you most certainly know when those moments have made entry into your life…
Birth of a fan
The first time I remember seeing Chiranjeevi was in Chitralahari program, telecast every Thursday on Doordarshan. Since we were the only home on the street with a TV, our neighborhood boys/girls typically swarmed our living room on such days when popular programs were telecast. That Thursday, the program was proceeding devoid of any excitement. But the solemn mood in the crowd changed when the song "Tallangu Dhinta, Talluk Taara" from Jwala movie was telecast. Folks were going ga-ga over the hero's dances and their faces were beaming having seen something out of the ordinary.
Almost 31 years later, the song visuals, living room ambience and most importantly a WOW expression across the faces is still fresh in my mind. After the program ended, folks walked out of the room singing praises for the hero's dances.
It was fanism at first sight!!!
That actor who danced like a magic was Chiranjeevi; and that day marked the august occasion of me wading towards a pool of millions of others, eventually becoming a hardcore fan of the actor, who would conquer the Telugu film industry and go on to become its biggest star.
The Chiranjeevi era had begun…
Heroism redefined
To the Telugu audience who were used to seeing fair skinned and good looking actors, a young man with attractive eyes and boy-next-door demeanor appealed big time. So much that they adorned him into their hearts. Added to this was an arsenal that was never ever seen by Telugu audience – natural & balanced acting, magical talent at dancing and realism in fighting sequences redefining the word HERO.
Chiranjeevi became our Michael Jackson!
Chiranjeevi brought pace and a new energy to Telugu films. The 80s/90s saw the rise and rise of Chiranjeevi who dished out 6-7 movies a year catapulting him to unimaginable heights. Trade circles proclaimed that Chiranjeevi is the number one actor and all other numbers changed based on Friday releases.
Complete commercial package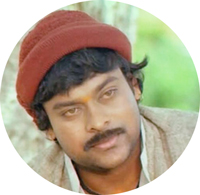 Even at the peak of popularity, Chiranjeevi experimented in sensible movies like Subhalekha, Swayamkrushi, Rudraveena and Aapathbandhavudu and showcased his inimitable acting prowess.
Detractors have ever since tried hard to limit and reason Chiranjeevi's stardom to dances and fight sequences; but they too concur (in their minds) that to this day, it is inconceivable to find an actor who can match Chiru's comedy timing and subtle portrayal of emotions.
Chiranjeevi became a complete commercial package hero with legends like K Balachandar going on record stating that Chiranjeevi is equal to Kamal Hassan & Rajnikanth. Is there a bigger compliment?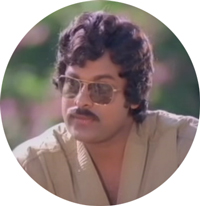 Success or failure aside, Chiranjeevi continued winning hearts and creating new benchmarks at the box office. His presence ensured extraordinary openings and even movies with a bad talk waltzed into the profit zone by his sheer presence.
The crowning glory moment came when one of the national magazines published on its cover page – Is he bigger than Bachchan? This was the time when Chiranjeevi, a regional film actor, took the highest remuneration amongst Indian actors.
Hero & Fan relation
Some of my most enchanting childhood memories inadvertently revolved around Chiranjeevi and his films. I still recall traveling to Hyderabad from Sangareddy with my family to watch Donga, Goonda, Khaidi, Adavi Donga, Chiranjeevi, Chantabbai, Intiguttu, Maga Maharaju amongst many others.
As my teenage years dawned, my adulation for Chiranjeevi grew beyond boundaries in unlimited proportions. His posters appeared in my room and dancing for Chiranjeevi's songs at school and neighborhood functions became a norm.
At one point, when my favorite actor's movies were failing in succession, I prayed to god that his next movie should attain success. Looking back I often ponder what forced me to go to a temple with a bizarre wish seeking for someone else's success when I had no relation with that person. Certain things cannot be explained…
May be it's a feeling that a fan only can feel; we pray for another's success but don't expect anything in return. Blessed is such a birth!
The low point
With every high there comes a low! Chiranjeevi who enjoyed a near perfect film career sans any controversy ventured into politics in 2008. His political entry and subsequent developments had critics and detractors taking jabs at the matinee idol. Folks who were unable to challenge the Chiranjeevi juggernaut within the cinema field, found it easy to throw garbs at his political career.
We learn little from success and a lot from failure.
Re-entry
9 years since his last movie, Chiranjeevi will be making a reentry to films in January 2017 in the form of Khaidi No 150. It will be a pleasant reprise to see our favorite actor in a mass role that made him stroll like a colossus in the Telugu filmdom for over 2 decades.
For every fan, it will be a moment of mixed emotions. Seems like I am waiting for an exam result; the only difference is I haven't written the exam!
The aura may have reduced slightly and age might show up a tad bit; but the megastar will remain, by a very far distance, the biggest and most worshipped actor of Telugu.
Shrekanth Devarakonda
dkshrekanth@gmail.com
(This article is the first in series of articles celebrating Megastar's re-entry with Khaidi No 150. If you are interested in writing an article about your fanism for Megastar, please send an email at krishna@telugu360.com)