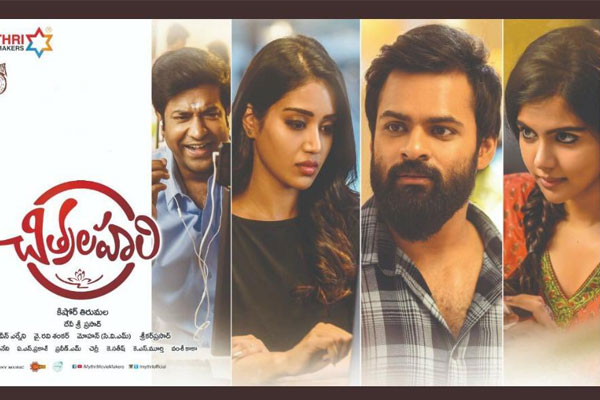 Chitralahari Movie Review
Telugu360 Rating 2.75/5
Story:
Vijay ( SaiTej) is an unlucky guy in his career and in personal life as well. Despite being a talented guy, he often ends up as a loser right from the childhood. Lahari( KalyaniPriyadarshan ) enters his life and they love each other. A practical girl Swecha( Nivetha ) who is friend to Lahari misguides the latter's judgement. Influenced by Swecha ,Lahari distances herself from Vijay.
Rest of the story is how Vijay succeeds in his career and in love. Also how the triangle story between Swecha, Lahari and Vijay unfolds cover the rest of the film
Analysis:
Chitralahari starts off promisingly with its truthful story that connects to Youth. A youngster with plenty of ideas doesn't get any break career-wise. With a supporting father, Vijay leads life happily with occasionally trying for a break. Lahari who cannot make self-decisions, Swecha – who is an independent practical girl enter into Vijay's life. The subsequent conflict point is not significant, narration is preachy. Kishore Tirumala has failed in generating previous two films' level emotions. Suneel in first half ,vennela Kishore in second half engage audience with some entertainment.Second half has some feel good moments such as Posani – Sai Tej thread, Mumbai episodes and ends in predictable manner
Performances :
Sai Tej has shown a significant maturity in performance in Vijay character. In this boy next door character, Sai Tej attempts to cater family audience. Posani Krishna Murali gets a good character as father of Sai Tej. Heroines Kalyani, Nivethalook Okay but performance wise need improvement.
Positives:
Message oriented story
Two Songs, Background score
Some fun moments
Negatives:
Unconvincing Love track
Flat conflict point
Verdict:
Chitralahari has a story that connects to youth, preaches to believe in self! The director honestly tries to deliver an inspirational message, but fails as a movie maker. This film is just an average film.
Telugu360 Rating 2.75/5