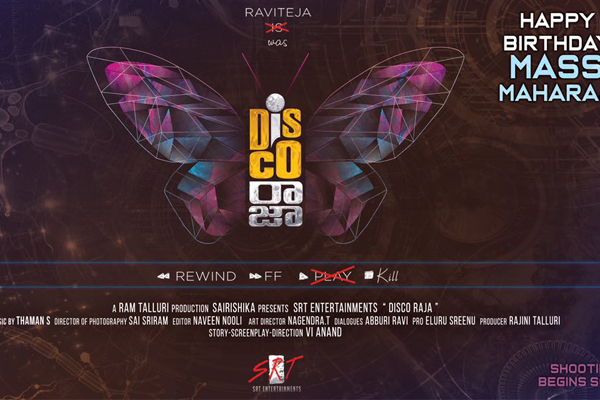 Disco Raja Review
Telugu360 Rating 2.5/5
Mass Maharaja Ravi Teja is aiming a comeback after his last couple of outings ended as miserable flops. He is now testing his luck at box office with a sci-fi thriller titled as Disco Raja. The action comedy is made on a reasonable budget and did decent pre release business in Telugu states.
The intriguing trailers have managed to gather some buzz on the film. Director VI Anand is known for his sensible narration and Disco Raja seems to be another interesting attempt from him.
Can Ravi Teja bounce back after going through a lean phase? Let's find out.
Story
A snow trekking team finds Raviteja's body in a brain dead condition in Ladakh. A medical research company experiments on the body to bring back life. Though Raviteja's body gets life back, he loses memory. Meanwhile, relatives of a missing person Vasu ( Raviteja ) are in search for him. The person who gets back life finds himself as Disco Raja who was a gangster in 1980s in Chennai. How the two roles are related? Or is it the same person? Etc. questions form the basis for rest of the story
Analysis:
Disco Raja opening sequences have been shot in an engaging manner. The premise, first 20 minutes give audience an impressive feeling. Vennela Kishore offers some comedy,first half is engaging with an interesting interval. Second half is primarily the back story of Disco Raja, which is set in 1980s. The art work is fine, but the retro makeup to the artists is not up to the mark. Disco Raj's characterization could have been better. The shot making is impressive at times, but the narration is the culprit. Sometimes the film tries to be a hatke comedy film, sometimes a routine revenge drama.
VI Anand who had directed Ekkadikipotavuchinnavada ,OkkaKshanam earlier came with an interesting story line but failed to impress as a director. Music provided by S.Thaman has two chartbuster songs, his background score with 80s disco theme is equally impressive
Performances:
Raviteja excelled in his multi-dimensional role. Bobby Simha stands out in a crowd with his performance as Sethu – rival gangster to Disco Raja.NabhaNatesh, Payal Rajput and Tanya Hope got limited length roles as heroines. Comedian Suneel has played an important character of his career. Vennela Kishore has offered much needed lighter moments in the film. Naresh, Giribabu ,Raghubabu and Annapurna played other smaller roles.
Positives:
Novel Story point
High production values
Raviteja's performance
Negatives:
Second half is a routine revenge drama
1980s scenes fail to impress
Verdict:
Disco Raja starts off as a promising Sci Fi film and ends as a run of the mill revenge drama. There are ample surprises and twists in the movie, but you feel worn out by the end. Ravi Teja does his part in a role with multiple dimensions. Disco Raja has a Novel story plot that's suffered with poor narration. Try it if you're a big fan of Raviteja.
Telugu360 Rating 2.5/5