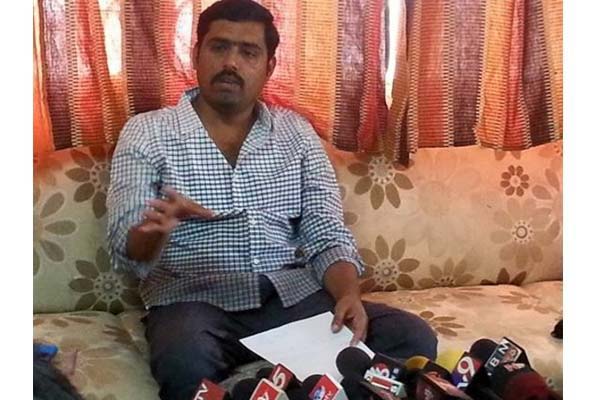 YSR Congress raised serious objection to chief minister Chandrababu Naidu's 'jolly trips in Rayalaseema' in the name of Janmabhmi. The party flayed the tours as spending the tax-payer's money like water. The party said Naidu, forgetting that he was touring the backward region where farmers and weavers committing suicide, was using special flights to hop from one district to the other.
The party urged Naidu to eschew the show business and not to come to Kadapa again in special flights and helicopters.The request is made on the eve of Naidu's proposed visit to the district on January 9, 2016.
Talking to media in Proddutur, Party's Rayalaseema leader Gandluru Veera Pravikumar Reddy took objection to using special crafts for tours in Rayalaseema. " You (chief minister ) have acquired a special luxurious bus at a cost of R 5.5 crore. And confining this to RTC Depot, you are using the special flight and spending huge money at a time many of the Rayalaseema projects are languishing incomplete due to lack of funds," Praveen said.
Why should the state government acquire the costly bus in the first place and keep it in the garage, he asked.
According to Reddy, chief minister Naidu arrived in special flight in Kadapa airport two days ago. He left Kadapa in another special flight. Again yesterday he used Helicopter to reach Ratana village in Kurnool district. From their he went to Puttaparthy by helicopter. Then by a special aircraft took him to Renigunta, Chittor district. Again he reached Gannavaram in the evening from Renigunta by a special aircraft. And on Friday morning, he used Helicopter to go to Kakinada. Not once had he used the special and luxurious Rs 5.5 crore bus for tours. It is lying like a museum piece in the Vijayawada RTC depot," he said.
With the money the CM spending on his tours, the state government could well construct an irrigation project like Gandikota, or set up in industry to provide employment to the youth, he said.
" We are told that about Rs 700 crore had been spent by the government on CM luxurious trips. It is unfair on the part of the CM to spend people's money on aircraft and helicopters. Had the money been allotted to Gandikota Project in Kadapa district, the project could have been completed by this time," he said.
Praveen criticized Naidu's double talk on the position state finances. " When on tours and addressing the public, the CM laments that bifurcation had made the state bankrupt and AP had no money , no capital city. He says centre is not releasing the promised amount. In reality, his luxurious, corporate-honcho -like life style with tax payer's money conveys a different meaning, and his style is not in tune with the difficulties he is listing out. We demand him to release a white paper on money he had spent on the tours, " Praveen Reddy said.