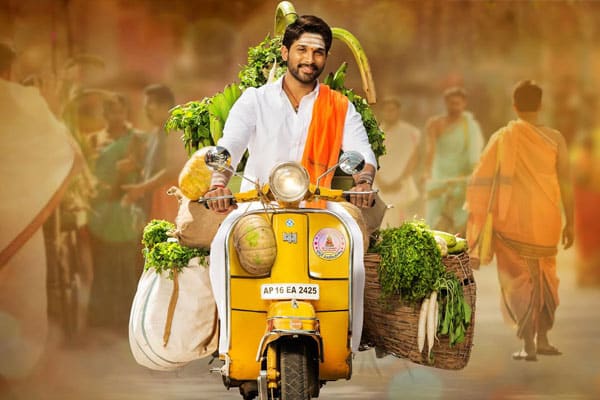 Duvvada Jagannadham review rating
Allu Arjun DJ Review
Telugu360 Rating : 2.75/5
Story :
Jagannadha Sastry (Allu Arjun) is a traditionally brought up brahmin who lives in Vijayawada, working alongside his family managing a food catering business. A visit to Hyderabad puts Jagannadham in a violent situation resulting in him helping an honest police officer at the cost of killing some goons. Moving forward, Jaganndham wraps himself in the concepts of 'Dushta Sikshana' and his grandfather's philosophy of 'Manam chese manchi pani kanapadali gani, manam kanapadakkarledhu', as he turns into 'DJ' – a vigilante anonymously attacking and killing anti-social elements.
The antagonist to DJ's protagonist is Royyala Naidu (Rao Ramesh), a highly influential real estate kingpin. Royyala Naidu's most atrocious crime is cheating the citizens of 9K Crores under the 'Agro Diamond' scam. The movie plot revolves around the conflicts between DJ and Royyala Naidu as they try to unmask & destroy each other in pursuit of upholding justice (DJ) and rampant spread of corruption (Royyala Naidu).
Analysis :
The movie sets out on a positive note with the Director Harish Shankar establishing the lead character, all the way from Jagannadha Sastry's childhood influences to his transformation into DJ. OK scenes between the female lead Pooja Hedge (a fashion designer) and Sastry, a couple of well written double entendres (Harish's skill as a writer comes thru here, as he manages to be effective while avoiding to sound vulgar) are included in the first half as it ends with an interesting fight. Proper usage of commercial elements, such as a near comical introduction for Sastry and stylish and full blown attitude introduction for DJ, result in a convincing and entertaining first half.
Songs in the first half 'Sharanam Bhaje Bhaje…', 'Mechuko Mechuko..' and Gudilo Badilo Madilo Vodilo are just OK. While 'Sharanam Bhaje Bhaje…' showed Allu Arjun in some interesting dance moves, it is disappointing to note that the super hit song 'Gudilo Badilo ….' did not meet the expectations both in terms of locations and choreography. There are two songs 'Box Baddhalu ayipoye..' , 'Seeti Maar..' in the second half with 'Seeti Maar..' definitely the best song in the film.
The disappointing second half of the movie suffers from the makers idea to end it on a lighter note instead of with a serious climax. An intentional comedy morphs into an irritating one as Allu Arjun and Subbaraju are shown in conversation with their parents' souls. Clearly the director failed to understand that if told in a convincing manner, the audience would accept a routine/serious action filled climax. Furthering the train wreck of a second half are the lengthy and heavy on bloodshed fights in the middle of nowhere, no doubt a mistaken attempt to appeal to the mass audiences.
Any movie lover will agree with the simple fact that, the hero's heroism elevates in the presence of a strong villain. Royyala Naidu, a rich, ruthless, shrewd businessman, is established as a very strong villain, one who has the power to even dictate the state politics. And yet, instead of cashing on this to further elevate DJ, the director has shown in climax Subaraju talking to his mother's soul and with his father, a single scene that breaks the movie tempo as the strong villain characterization comes crashing down. A communion with the departed souls – more like a mockery of the audience's intellect.
Performances :
True to his trademark, Stylish Star Allu Arjun looked good as DJ. His role as Jagannadha Sastry is good as well. His performance when his family is under threat is the best.
Pooja Hedge is super gorgeous, this is a perfect comeback for her. Amazing physique and dance skills should hopefully get her some offers pending the movie's success. Rao Ramesh is good, especially as Royyala Naidu is shown with similar vibes as his father's character in Muthyala Muggu. Vennela Kishore, in a stereotype role is OK. Subbaraju and Posani are OK, failed to gather laughs.
Technical Department :
DeviSri while he excelled on the background score, fell short on the songs. Photography by Avananka Bose is OK – nothing special. Good production values from Producer Dil Raju as this film is their milestone (25th) one . Perhaps a little more money on the songs could have helped. Dialogues from Harish are very good, would have better complimented the movie had the second half been better.
Positives :
First half commercial elements.
Harish Shankar's dialogues.
Allu Arjun histrionics, decent performance
Seeti Maar, Asmaika Yoga songs.
Pooja Hedge's glamour
Choreography and Allu Arjun in Sharanam Bhaje & Seeti Maar songs.
Double meaning dialogues are smartly written and instant super hits: " Kaallaki socks ye vesukonu….." , "Okkanne entha sepu selfies …….. ?" "Venkaayamma …."
Negatives :
Climax – an attempt at comedy gone horribly wrong resulting on one of most ridiculous climaxes in recent times.
Lack of any novelty in story
Weak second half
Touted as a comedy film, the movie did not evoke much laughter
Verdict :
Good dialogues can only do so much to help a mediocre script with average execution.Duvvada Jagannadham is a one-time watch for masses and Allu Arjun fans. For families, there are occasional fun moments, but that's about it. At the Box-Office, Duvvada Jagannadham opened well, may end up as above average in India and lesser than average in overseas markets.
Telugu360 Rating : 2.75/5
Release Date : 23rd June, 2017
Director : Harish Shankar
Music Director : Devi Sri Prasad
Producer : Dil Raju
Cinematography : Ayananka Bose
Starring : Allu Arjun, Pooja Hegde