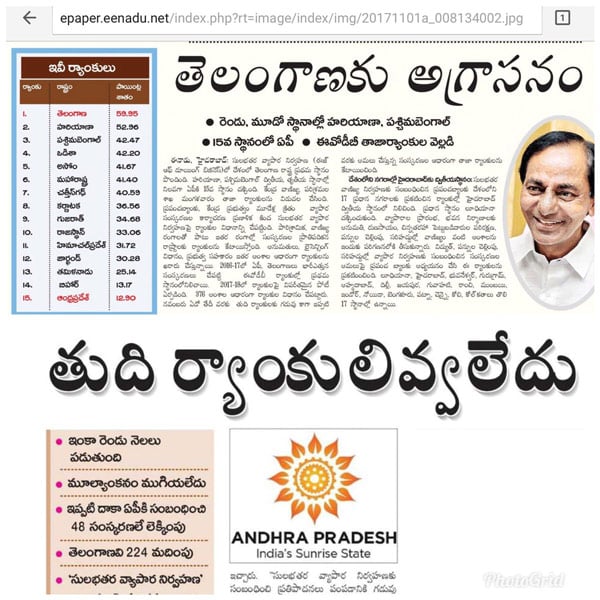 Yesterday, when Eenadu wrote article regarding the rankings of the Indian states and India as country regarding "ease of doing business", we at Telugu360, highlighted that this article is misleading as it conveniently omitted the disclaimer on final deadlines and the fact that ranks are not yet being finalized. There has been debate among media circles as well as common people whether Eenadu did it mistakenly or was it intentional to promote Modi and KCR's governments.
Today, Eenadu published story in main page which is a corrigendum of its earlier article. This story has been given the heading that final ranks are not frozen. Also, Eenadu admitted the numbers reported in the story are not the latest and the historical data was presented by mistake as the latest data. While Eenadu showed no hesitance in admitting the incorrectness of the story, now, interestingly another debate got triggered.
The debate is about the reason of this corrigendum. Is it because the social media as well as many others pointed out the mistake of Eenadu's story or is it because Chandra Babu was terribly upset with the story as AP got 15th rank as per the story and this put CBN in a very embarrassing situation as he has been touring several countries to attract investments. It seems CBN had meeting with high level officials regarding this story and asked them to present the real facts to the media. But it seems both of these might not be the real reasons as Eenadu has the history of showing no hesitance when admitting the mistakes of its story and providing corrigendum.
Only Telugu360 reported Eenadu's blunder on #EaseOfDoingBuisness ranks Yesterday;

2day they corrected

Nov 1st Vs 2nd banner headings : pic.twitter.com/P2gqA3Thky

— Telugu360 (@Telugu360) November 2, 2017
Eenadu mistaken.Rankings will be given on Nov 7th,until then change dynamically every day. Chk official : https://t.co/zzEmiOH6JH@KTRTRS https://t.co/CXL2SRavdq

— Telugu360 (@Telugu360) November 1, 2017