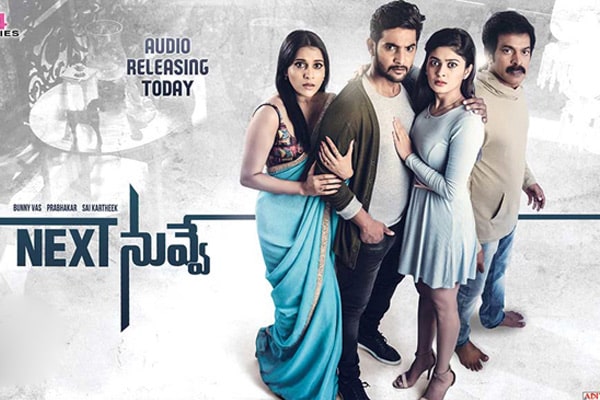 Aadi's Next Nuvve Movie Review
Next Nuvve Review Rating
TELUGU360 Rating 2.5/5
Click here for "NEXT NUVVE " Review in Telugu 
Final Report :
' Next Nuvve ' is yet another run of the mill , farcical movie in the name of ' Comedy Horror ' genre. Aimed at mass audience, comedy works only in parts. Horror part is poorly executed with no quality in this cliched story film. New Director ETV Prabhakar has shown no mark.
Positives : Brahmaji character , some double entendre comedy , Aadi is OK as Resort owner. Rashi Gautam appeals to masses
09:26 AM With routine climax movie ends
09:07 AM Raghubabu as RGV entered
08:55 AM Flashback episode is silly , could have been better
08:40 AMAs a twist about serial deaths is revealed , Kiran ( aadi ) shocks !
First half report :
Run of the mill horror comedy genre film so far , director ETV Prabhkar topped it with some double entendres. Movie fate depends on second half
Brahmaji Characterization , some sleazy moments for masses are positives in 1st half
08:10 AM With nothing special scene, Interval
07:55 AM All guests staying at the resort dies mysteriously. Brahmaji Characterization is interesting
07:35 AM Aadhi buys a hotel ( resort ) , maintains it with help of Brahmaji and his sister Rashmi Gautam
07:25 AM As Aadhi owes money to Jayaprakash reddy , JP warns him to pay in a week's time
07:15 AM Kiran ( Aadi ) has been introduced as TV serial director.
07:03 AM #Showtime Next Nuvve
Among numerous releases this week, young hero Aadi's Next Nuvve is garnering decent attention from trade circles and audience, thanks to the strong promotions by the production house.
Next Nuvve is tipped to be a horror comedy with an interesting plot point. The film has Vaibhavi Sandilya and popular TV host Rashmi in crucial roles. Comedians Jaya Prakash Reddy, Vennela Kishore and Brahmaji are essaying humours roles in this film which marks the directional debut of ETV anchor Prabhakar. Young composer Sai Kartheek rendered the soundtrack for the film.
Bunny Vas is the producer and the film is gearing up for a decent release tomorrow.
Let's see if Next Nuvve can withstand the flurry of releases this Friday and emerge as a winner at the box office.
Here are the live updates followed by detailed analysis about the film.
Release Date : 3rd Nov, 2017
Director : Prabhakar
Music Director : Sai Kartheek
Choreography : Vishwa Raghu
Production Company : V4 Movies
Starring : Aadi, Vaibhavi Sandilya, Rashmi Gautam